Elaine Guerini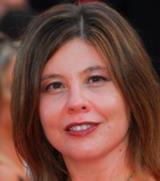 Elaine Guerini covers Brazil for Screen.
Contact Info
Elaine Guerini
Correspondent (Brazil)
With Brazilian film-makers on the rise, Elaine Guerini rounds up a quintet of the country's most exciting talent

EXCLUSIVE: Nanda Costa, Roberta Rodrigues star in Rio Carnival rom-com.

The sensorial cinema of Gabriel Mascaro, who turned the life of a group of cowhands into a poetic experience in Neon Bull (Boi Neon), was the big winner at the 17th edition of Rio de Janeiro's International Film Festival.