Fionnuala Halligan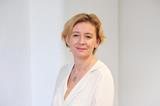 Contact Info
Fionnuala Halligan
Chief critic and reviews editor
Sundance Film Festival marks a fresh start to the film calendar. Just as awards season is winding down, new artistic agendas are kicking off all over Park City.

Fionnuala is Screen International's chief film critic and reviews editor. She has more than 20 years' experience as a film writer and critic.

PRODUCER: Londoner Emily Morgan is translating her knowledge of languages and international cinema into a career as a UK producer.