Fionnuala Halligan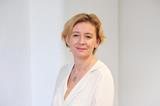 Contact Info
Fionnuala Halligan
Chief critic and reviews editor
2016 looks like a good vintage: Screen's chief critic and reviews editor Fionnuala Halligan dissects this year's Competition lineup…

In an interview made available to Screen, the iconic Oscar-winning production designer, who died earlier this month, recalls working on eight Bond films and with Stanley Kubrick.

Sundance Film Festival marks a fresh start to the film calendar. Just as awards season is winding down, new artistic agendas are kicking off all over Park City.