Fionnuala Halligan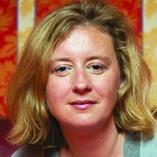 Contact Info
Fionnuala Halligan
Freelance
CASTING DIRECTOR: "There's no formula," says Rose Wicksteed of the profession of casting.

PRODUCTION DESIGNER: At its best, production design feels 'real', the world presented onscreen convincing and believable, no matter where it might be.

CINEMATOGRAPHER: It is unusual for a DoP to work his way up the camera department on set; there are a lot of steps to climb.