Fionnuala Halligan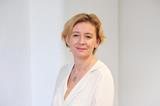 Contact Info
Fionnuala Halligan
Chief critic and reviews editor
Screen's jury of international critics finished the festival tied in their appreciation of Carol and The Assassin, ahead of the award of the Palme d'Or.

Fionnuala Halligan blogs on the Cannes Competition titles straight from the Palais.

With only one more film to screen at Cannes 68 – Macbeth – the Screen International team of jurors are tied for their lead film.