Another look at Nymphomaniac
The new image from Lars von Trier's hotly anticipated film shows Charlotte Gainsbourg in a threesome.
The world was a bit underwhelmed when the first image from Lars von Trier's Nymphomaniac was released…it was about a sexy as the grey cement floor that comprised most of the image.
But now TrustNordisk has revealed another image from the film, to which Team Screen says, "Now THAT's more like it." The Charlotte Gainsbourg fans in the office are now very excited indeed for this film, about a woman's erotic journey from birth to age 50.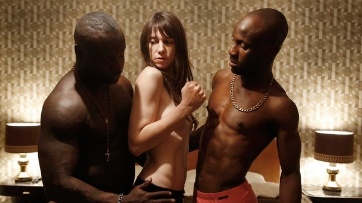 Zentropa also released a typically intriguing teaser: "First there was one film, then there was two and now there's so much material that anything is possible…After 268 script pages, 11 weeks of shooting and an immense postproduction with over 100 hours of material to follow, Lars von Trier will complete his upcoming Nymphomaniac ultimo 2013."
CEO of Zentropa Peter Aalbæk Jensen said: "This film will probably be Lars von Trier's masterpiece. It contains so much potential in terms of humor, grandiose and visual quality and shows a Lars von Trier at his best. Lars has currently edited a quarter of the material and for a merchant like me it brings a smile to my face watching lust and laughter go hand in hand with a drama such as this. This is Lars' most ambitious film to date".
TrustNordisk is presenting a promo of the first part of the film here at the EFM at an invite-only buyers event. CEO of TrustNordisk Rikke Ennis about the plans for release: "Nymphomaniac is in every way controversial and exciting and I'm convinced that the extensive material and time given allows us to produce a campaign that rocks the entire cinema landscape".
Producer Louise Vesth recently spoke to Screen about the hotly anticipated film.