Richard Gere aims for movies 'about people, not cartoons'
The actor receives Zurich Film Festival's Golden Icon Award.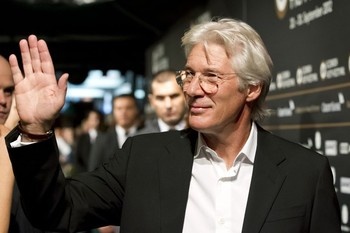 Richard Gere is already spurring Oscar talk for his amazing performance in Nicholas Jarecki's drama/thriller Arbitrage. The indie film is also a box-office hit in the US after two weeks of release.
He plays Robert Miller, a wealthy New York financier whose world starts to crumble, forcing him to make some morally ambiguous decisions. "The decision we made pretty early on was to paint him as a villain in the clichéd ways that it could be done was not really going to help us at all," Gere said of his character. "To see him a flawed human being like all of us, and watch him make a lot of bad decisions based on a very specific mindset seemed to be the more interesting way to go…Bernie Madoff was a systematically dark character, and clearly mentally ill, a sociopath, and I didn't really want to go into that territory. I think this guy Robert Miller is us."
He jumped at the chance to make the film, even though it marks Jarecki's first fictional feature. "The script was just a terrific read. Most of the movies that people try to make now are really not about people, it's about cartoons, not our everyday realities. In this script I recognised the people very much," Gere said of the script. "It's very rare to see a film these days that's about people and dialogue and rich language."
In addition to presenting Arbitrage at the Zurich Film Festival earlier this week with director Jarecki and co-star Susan Sarandon, Gere also received ZFF's Golden Icon Award. "It's somehow honouring the fact that I'm old and I survived all this time," Gere joked, before adding more seriously: "It's very kind and very generous and I don't take any of these things for granted."