Sylvester Stallone talks Shakespeare and Schwarzenegger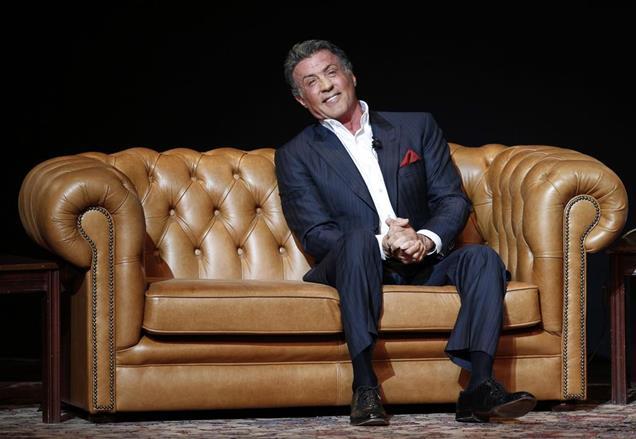 Sylvester Stallone made his London West End debut at the weekend as he strode the boards at the city's illustrious London Palladium.
In truth he was taking part in an on-stage interview with British TV chat show host Jonathan Ross for 'An Evening With Sylvester Stallone', but that didn't stop him putting in one hell of a performance and having the audience on their feet clapping and cheering.
The event allowed Stallone to dust off some great old stories; slip in more than a few jokes and poke fun at some of his flops – he only mentioned Rhinestone once, and with a wry smile – but he also talked with humility, humour and intelligence as he recounted growing up in New York's Hell's Kitchen and how he dreamed of being an actor.
He even proved his range by singing briefly (thankfully) and quoting a passage from Shakespeare's The Comedy of Errors.
The 67 year-old actor/writer/director was at his most frank when he admitted how the success of Rocky made him "insufferable", adding that he had re-read some of the interviews he gave and wished he could "go back and punch myself in the mouth".
He happily admitted that his last Rocky film, 2006's Rocky Balboa, had been his favourite in the series, but admitted that his much-loved character wouldn't be taking to the ring again. He did say that that the planned spin-off Creed – to be directed by Fruitvale Station's Ryan Coogler – is set to be made, with Stallone's Balboa character appearing as a trainer for the grandson of his former adversary.
He also discussed his other successful character, John Rambo who was first seen in 1982's First Blood. He revealed that his hero Kirk Douglas (The Vikings is one of Stallone's favourite films) was originally due to play Rambo's commanding officer and was on set of one day, but left after they disagreed about the character's role in the film. The part later went to Richard Crenna.
Stallone admitted that the Rambo series had also come to an end…though joked that maybe the character could be revived if the film were to be shot in somewhere less inhospitable than the series' other locations – joking that he could maybe play Rambo as a security guard in Las Vegas.
The trip to London coincided with the promotional tour that he and Robert De Niro have been embarking on to hype the Warner Bros release Grudge Match, that sees the pair playing aging boxers who take the ring for one last contest and one massive payday.
The evening saw Stallone find time to discuss his relationship with Arnold Schwarzenegger (they "hated each other" at the height of their action-star careers) and how he got John Travolta back into shape for Staying Alive, but he was at his most interesting and erudite when it came to talking about how writing screenplays is the hardest thing he does, and happily gave advice to wannabe writers in the audience.
He also revealed some of the films he had turned down and now regretted – Witness, Coming Home and Romancing The Stone ("I did Rhinestone instead" he said with a smile) – and how he thinks it is unlikely he will ever make his long-planned Edgar Allen Poe project.
The London Palladium event followed on from a similar one last summer in which Al Pacino discussed his life and career. Similar events to feature Arnold Schwarzenegger and John Travolta are being planned.