Status Quo: rocking all over Berlin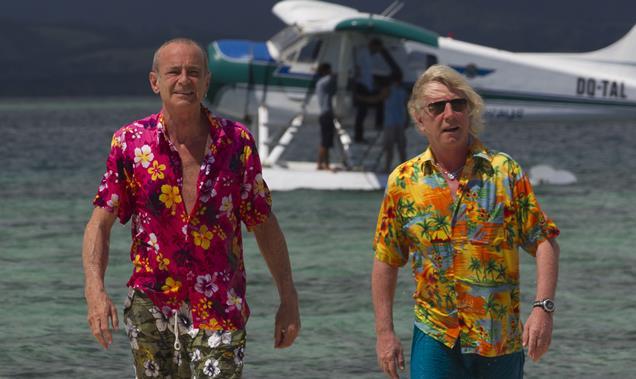 British rockers Status Quo have taken a break from touring to promote their debut feature here in Berlin.
Action comedy Bula Quo! stars frontmen Francis Rossi and Rick Parfitt as themselves, who have to go on the run from a crime boss while visiting Fiji.
The film, which was granted a 47% film tax rebate form the Fiji Audio Visual Commission, also stars Jon Lovitz, Craig Fairbrass and Laura Aikman.
Directed by Stuart St Paul, it was produced by Status Quo Films and will receive a theatrical release in UK this July through distributor Miracle Communications.
"We've been talking about doing a movie with Stuart since he directed us on Coronation Street seven years ago," Rossi told Screen.
"We're not actors so I'm not sure if we played ourselves properly - but the rest of the cast gave us great tips and we put the script into our own language."
Parfitt said: "We only knew a fortnight before the shoot that we were doing it but the script was funny so we went for it."
Rossi and Parfitt, who drew inspiration from This is Spinal Tap and Blazing Saddles, are now keen to make at least two more films with the same team. "We have talked about doing one in India and another in Austria," Rossi revealed.
"And the next one will be even funnier as we'll be less inhibited and push things a bit further," added Parfitt.
St Paul said he was in discussions with distributors in Russia, South Africa and Australia for an international roll-out. He added: "We wanted to make a fun movie with music and this was definitely the most fun I've ever had making a film."