Jeremy Kay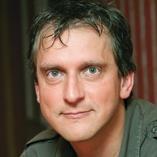 Jeremy Kay is Screen's US editor based in Los Angeles.
Contact Info
Jeremy Kay
US editor
JULY 3 UPDATE: Jurassic World faces its sternest test yet as Terminator Genisys leaps to an early $28m heading into its first major weekend. Inside Out continues to build momentum and crosses $300m worldwide.

The genre theatrical imprint of Shout! Factory will open the film in select cinemas across top US markets and on VOD on September 4.

The RLJ Entertainment brand has acquired first-time filmmaker Daniel Robbins' genre tale.