Liz Shackleton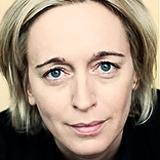 Contact Info
Liz Shackleton
Asia Editor
EXCLUSIVE: Hindi-language drama sold by Films Boutique.

EXCLUSIVE: Manoj Bajpayee [pictured] and Smita Tambe will star in Atanu Mukherjee's Unknown Faces, produced by Drishyam Films, which is scheduled to start shooting on December 11.

Proposition For A Revolution, directed by Khushboo Ranka and Vinay Shukla, has been awarded a $50,000 grant from the Sundance Documentary Film Programme.