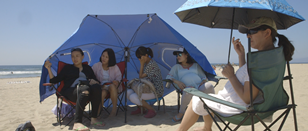 Participants receive mentorship, $5,000 grant, and DOC NYC festival retreat.

Directors UK and Creative Skillset programme aims to diversify directing talent in TV drama.

Gender pay gap figures revealed.

"I don't want to play someone who's being racially abused."

Study shows that 29% of films in 2016 had a woman as the lead character.

Research highlights problems with class and "unconscious bias".

There was a drop in the number of women working on high profile Hollywood films, despite ongoing diversity debate.

New BFI research reaffirms alarming diversity trends.

Screen Australia has committed AU$3m ($2.3m) towards fast-tracking 58 projects by female filmmakers, as part of a broader gender equality initiative.

A mentorship programme and paid internships are being introduced in a bid to help boost the number of female directors in the industry.

A new UK survey proves what many people already know anecdotally, that it's a challenge being a parent and working in the film and TV industries.

Media misrepresentation of Muslims, and fear of reproach from within their communities, are hindering depictions of the less "extreme" and pluralist aspects of Islam, according to leading filmmakers.

MEDIA SUMMIT: Rebecca O'Brien, producer of Cannes winner I, Daniel Blake, also criticized nepotism in the film industry.