Orlando Parfitt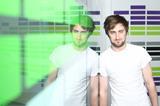 Senior editor online, based in London.
Contact Info
Orlando Parfitt
Senior editor - online
T2 Trainspotting and Fifty Shades Darker have joined the all-time list.

Study shows that 29% of films in 2016 had a woman as the lead character.

German comedy wins five awards, including best picture and director.