Orlando Parfitt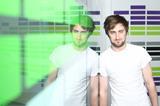 Senior editor online, based in London.
Contact Info
Orlando Parfitt
Senior editor - online
Danny Huston, Rosemarie Dewitt, Zoey Deutch, Devon Terrell and Odessa Young also join cast.

FOCUS initiative aims to provide business support to Scottish film and TV companies.

EXCLUSVE: Geraldine Atlee and Eva Yates join from Film4.