Miss Christina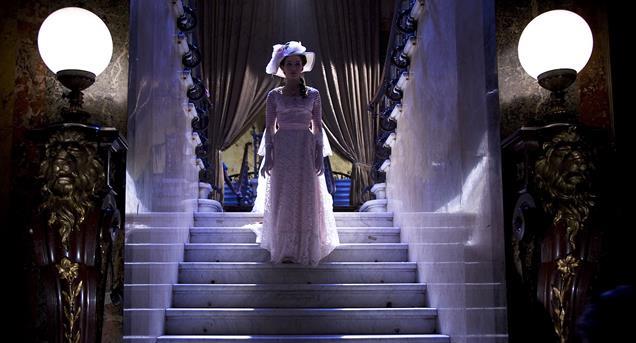 Dir: Alexandru Maftei. Romania. 2013. 100mins
This adaptation of a novel written some 80 years ago by Mircea Eliade, one of Romania's best known authors and philosophers, turns the heavily atmospheric story of a man in love with a real woman and the ghost of her departed aunt, into a typical genre scare piece, mostly designed to promote the technical capacities of the producing studios.
Making no sense whatsoever, even within the supernatural terms of this tale, the script shows no interest in its characters.
Plunging into the Romanian mythology to bring up a "strigoi" (not quite a zombie, but related to vampires and very close to a poltergeist) who haunts not only a mansion but the entire countryside around it, Miss Christina (Domnisoara Christina) offers an unintelligibly told plot and doubtful character motivation but the visuals are enticing enough to keep it going at least part of the way and the Moldavian locations look handsome enough to attract more productions of this genre into the neighborhood. As such, it may even turn up in one of the niche festivals of the genre. The film screened at the Transilvania International Film Festival.
World-weary painter Egor Paschievici (Tudor Aaron Istodor) leaves the dissolute pleasures of the city in the company of his beloved, Sanda (Ioana Ansatasia Anton), for her family's castle in the forest. There he meets Sanda's mother, Mrs. Moscu (Maia Morgenstern, a leading stage and movie star, also Istidor's mother in real life) and her younger sister, Simina (Ioana Sandu), a disturbing adolescent.
The one additional presence the painter did not count on, but is apparently the most assertive one in the place, is that of Miss Christina (Anastasia Dumitrescu), Mrs. Moscu's sister who had been murdered by a jealous lover some 20 years ago, in the prime of her life and in the middle of having sex with the wrong man.
Since then, she had been regularly visiting the premises, haunting everyone around and wrecking her vengeance on the helpless peasants around out of sheer, unadulterated spite. Not a nice person, according to the stories going around about her, but once Egor shows up she is instantly smitten with him, inflicting a strange disease on Sanda, who is alternately pining for her lover and pushing him away.
As for Egor, he would like to chase the intruder but, unsurprisingly, he is bewitched by her beauty until he realises the malefic effect she has on him, at which point he almost pays with his life for his sinful fascination.
Making no sense whatsoever even within the supernatural terms of this tale, the script, written by Maftei and Raluca Durbaca, shows no interest in its characters, throwing in one mystification after another, moving in and out of gothic sets, spraying the woods with thick layers of fog and resorting to sweeping walls of massive symphonic sound and richly distributed sound effects, to fill on for other, more significant earmarks of the genre. Istodor, Anton and Dumitrescu are a handsome trio, Morgenstern contributes with her imposing presence, and Sandu is alarming enough even without opening her mouth.
In all fairness, however, the unusually high price tag – more than $1 million, way over the average budget of Romanian films - has not been entirely squandered, with every dollar very much in evidence on the screen.
Production companies:  Abis Studios, Mitra Film
International sales: Abis Studios, office@abisstudio.ro
Producers:  Gabi Antal
Screenplay: Alexandru Maftei, Raluca Durbacă
Cinematography: Radu Aldea
Editor: Theodora Penciu
Production designer: Vali Ighigheanu, Oana Marinescu
Music: Jon Wygens
Main cast: Tudor Aaron Istodor, Ioana Anastasia Anton, Anastasia Dumitrescu , Ioana Sandu, Maia Morgenstern