V/H/S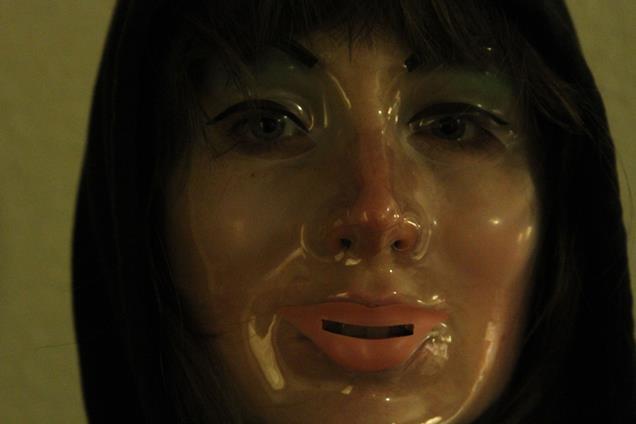 Dirs: David Bruckner, Adam Wingard, Ti West, Glenn McQuaid, Joe Swanberg, Radio Silence (Matt Bettinelli-Olpin, Tyler Gillett, Justin Martinez, Chad Villella).  US. 2012. 116mins
V/H/S weds the recent mushroom-growth of 'found footage' horror with the established anthology format to satisfying effect.  Though themes and character types recur (a few too many callous bastards getting comeuppances), the stories (and filming styles) are varied enough that the film doesn't suffer from the repetition which makes recent found footage horrors hard to tell apart (Episode 50, Grave Encounters and The Paranormal Incident, for instance, seem like the same film made three times).  The film has screened at various festivals, and shows at London's FrightFest.
As a showreel for an array of newish, youngish genre filmmakers who have done good work but not yet established themselves on a level with horror's current hot properties, V/H/S is very successful.
The stories, as befits the format, flit past like hallucinations – often forcing the audience to draw conclusions about what has actually happened.  Though there's a lot of seeming improv chatter, most of these tales are tightly constructed and require attention paid to throwaway lines.  The general mood of unease and a couple of solid shocks in each segment means it's also likely to scare up audiences who won't even try to make sense of it.
The frame story 'Tape 56', directed by Adam Wingard (A Horrible Way To Die, You're Next) and written by Simon Barrett (Dead Birds, Frankenfish), follows a band of crass video pranksters, who film themselves assaulting women and exposing their breasts (a queasily recurrent theme), marshaled by a cannier criminal (Calvin Reeder) to break into an old house and steal a particular videotape. 
They find a corpse propped in a chair in front of multiple TVs and many tapes, which constitute the individual stories – though watching them has an effect on whoever is in the room, and that corpse inevitably gets restless.  'Amateur Night', written and directed by David Bruckner (co-director of The Signal), brings on another group of young, obnoxious, sexist and exploitative guys, who use video-camera glasses to document a night out which they hope will end in sexual activity in a motel room. 
Odd, waifish pick-up Lily (Hannah Fierman) turns out to be more unpredictable than expected, showing psycho/werewolf/demon/succubus traits and turning on the sexual predators.  Like some of the other directors here, Bruckner blends the low-budget shaky-cam aesthetic with sophisticated visual effects, producing a very impressive monster who might be the mate of the fiend from Jeepers Creepers.
'Second Honeymoon', by Ti West (House Of The Devil, The Innkeepers) changes tack by getting away from the blurry urban night-vision feel of the frame and the first story and taking a trip across America, with daylit wide open spaces (including the Grand Canyon).  A young married couple (Joe Swanberg, Sophia Takal) find their trail dogged by a masked female stalker (Kate Lyn Sheil) with an odd agenda. 
'The Sick Thing That Happened to Emily When She Was Younger', directed by Swanberg, switches technologies and presents a recorded series of Skype conversations (as did a earlier genre entry, The Collingwood Story) between a college student (the unusual-but-attractive Helen Rodgers) and her distant boyfriend (Daniel Kaufman) as Emily suffers from a strange medical condition in a perhaps-haunted house. 
'Tuesday the 17th', by Glenn McQuaid (I Sell The Dead), is a video diary riff on the standard slasher formula, with a final girl returning to the rural site of a massacre where she confronted a supernatural serial killer whose presence registers as tape distortion. 
'10/31/98', by the Radio Silence Collective (Matt Bettinelli-Olpin, Tyler Gillett, Justin Martinez, Chad Villella) is a Halloween story with a little more humour than the other episodes, as four guys in costumes (Matt Bettinelli-Olpin, Tyler Gillett, Paul Natoneck, Chad Villella) show up at what seems to be the wrong house for a party and are assailed by a multiplicity of phenomena before they stumble into what seems to be a cult sacrifice and try to do the right thing by rescuing the victim (Nicole Erb). 
As usual in anthology horrors, there is a certain inevitability to the downbeat endings, but the mood changes enough from serious horror to psychological disturbance to spooky fun to take the edge off; all of the episodes try for slightly more complicated set-ups than usual.
As a showreel for an array of newish, youngish genre filmmakers who have done good work but not yet established themselves on a level with horror's current hot properties, V/H/S is very successful.  It's more consistently good than last year's The Theatre Bizarre, for instance. 
It's encouraging for the genre that this particular group of filmmakers are more ambitious thematically and technically than the retro-grindhouse gang (Eli Roth, Rob Zombie, Robert Rodriguez, etc) who are their immediate elders in the field.
Production companies: Bloody Disgusting Pictures, The Collective
International sales: Epic Pictures, www.epic-pictures.com
Producers: Simon Barrett, Roxanne Benjamin, Gary Binkow, David Bruckner, Matt Burgerhoff, Linda Burns, Alex Kuciw, Ti West, Glenn McQuaid, Brad Miska, Lee Nussbaum, Peter Phok, Kim Sherman, Joe Swanberg
Executive producers: Tom Owen, Zak Zeman
Screenplay: Simon Barrett, David Bruckner, Nicholas Tecosky, Ti West, Glenn McQuaid, Radio Silence (Matt Bettinelli-Olpin, Tyler Gillett, Justin Martinez, Chad Villella).
Cinematography: Eric Branco, Andrew Droz Palermo, Victoria K. Warren, Michael J. Wilson
Editor: Joe Gressis
Website: http://www.magnetreleasing.com/vhs/
Main cast: Calvin Reeder, Lane Hughes, Adam Wingard, Hannah Fierman, Joe Swanberg, Sophia Takal, Jason Yachanin, Helen Rodgers, Daniel Kaufman, Matt Bettinelli-Olpin, Jas Sams, Tyer Gilett, Paul Natonek