Warner's Lord of The Rings prequel takes $18.8m (£11.6m), including previews, to debut at number one.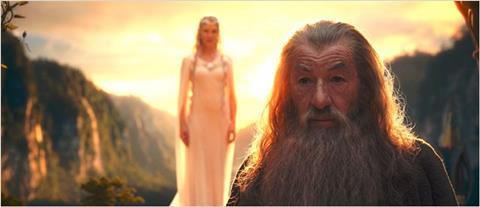 Taking around 60% of the market share, Warner Bros.' The Hobbit: An Unexpected Journey has debuted top of the UK box office.
Peter Jackson's return to the Shire grossed $18.8m (£11.6m), including $3.4m (£2.1m) on Thursday, from its 601 sites with 58% coming from 3D and IMAX 3D screens.
While a more-than-solid debut, The Hobbit only managed to topple The Fellowship of the Ring's $17.9m (£11.1m) opening bow from considerably less sites (470) in the context of the Lord of the Rings trilogy. With a lack of direct competition, The Hobbit should enjoy a sturdy run at the box office although whether it can challenge the final tallies of the LOTR instalments - the lowest of which is The Two Towers at $93.4m (£57.6m) - remains to be seen.
Having jumped to the top of the box office last week, Paramount's Rise of the Guardians was the only other entry in the chart this week to take over £1m. The 3D animation now stands at $9.3m (£5.7m) following a $2m (£1.3m) weekend.
Arguably the most notable performance of the weekend belonged to eOne's Nativity 2: Danger in the Manger! which recorded just a 3% drop in its fourth weekend on its way to $1.5m (£938,000) for $9m (£5.6m) to date.
The sequel has now overtaken its predecessor's $8.6m (£5.3m) overall haul.
Edging closer to £100m but finally showing signs of slowdown in its eighth week was Sony's Skyfall. The latest Bond mission added a further $1.3m (£809,000) to stand at $158.4m (£97.7m).
Disney's TinkerBell: The Secret of the Wings was the only other major new entry in this week's chart, grossing $857,000 (£529,000) from its 383 sites to chart fifth.
Momentum's Seven Psychopaths dropped around 45% in its second weekend and has taken $3.5m (£2.1m) so far, while Entertainment's Silver Linings Playbook crossed the £4m barrier in its fourth weekend and has grossed $6.7m (£4.1m) to date.
This week sees saturation releases for Fox's Life of Pi (opens Dec 20) and Universal's Pitch Perfect. Independent Distribution's Boxing Day and Sony's West of Memphis are among the films receiving a limited release.