Disney's 3D animation dethrones Les Misérables after four weeks at the UK's summit; StudioCanal's I Give It A Year impresses with $2.4m (£1.5m) debut in third.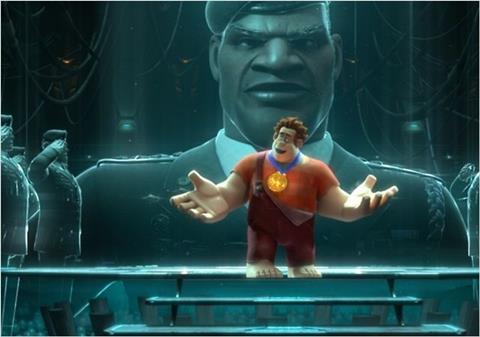 Following four straight weeks as the UK's champion, Universal's Les Misérables has been ousted by Disney's Wreck-It Ralph, which debuted with a strong $7.1m (£4.5m) to take the top spot.
The 3D animation set in the world of arcade games led throughout the weekend, and its $7.1m (£4.5m) debut compares favourably to recent Walt Disney Animation Studios efforts. Its opening is a touch behind that of Tangled ($8m/£5.1m), which went on to take a healthy $32.2m (£20.5m), but almost double that of The Princess and the Frog ($3.5m/£2.2m) and almost topped the entire UK run of Meet The Robinsons ($7.5m/£4.8m).
Bolt debuted with $8.6m (£5.4m) in 2009, yet it's worth noting that $4.1m (£2.6m) of that came from previews.
Despite falling a place to second, Universal's Les Misérables - which led the BAFTA field with four wins - can still be pleased with an estimated $2.7m (£1.7m) fifth weekend to push it up to $53.3m (£33.5m) in the UK.
Tom Hooper's ambitious adaptation of the much-loved musical has now fallen far behind Mamma Mia's pace in the UK, which stood at $61.6m (£39.2m) at the same stage in its run and still had five weekends of over £1m in the tank.
Les Misérables will need encores if it's to dethrone Mamma Mia as the UK's biggest grossing musical at $107.7m (£68.5m).
The week's second highest new entry belonged to StudioCanal's I Give It A Year which delivered an impressive debut to chart third in a crowded field.
Dan Mazer's directorial debut laughed its way to $2.4m (£1.5m) from 397 sites and is now set for a strong first week thanks to positive reviews and Valentine's Day falling on Thursday.
In terms of recent romantic comedies, I Give It A Year topped the openings of the likes of The Five-Year Engagement ($1.7m/£1.1m from 457) and What To Expect When You're Expecting ($1m/£661,617 from 416), as well as already surpassing the entire UK run of the recent British effort The Wedding Video ($1.7m/£1.1m).
Falling two places to fourth was Sony's Django Unchained which dropped a respectable 36% in its fourth week on its way to $1.7m (£1.1m).
Quentin Tarantino's latest opus - which scooped two BAFTAs last night - is now up to $19.5m (£12.4m) in the UK, narrowly behind Pulp Fiction's $19.9m (£12.7m) haul which Django Unchained will overtake this week to become Tarantino's highest UK grosser.
Rounding off this week's top five was Paramount's Flight, which coasted to a $1.4m (£924,749) second weekend for a ten-day tally of $5.1m (£3.2m).
Debuting just outside in sixth was eOne's Warm Bodies with a solid, if unspectacular, opening of around $1.4m (£890,000) from its 319 sites. That being said, it does mark director Jonathan Levine's best-ever UK debut, almost doubling the result of his previous strongest 50/50, which recorded a $644,000 (£410,251) debut albeit from less sites (228).
Fox's awards contenders Life of Pi and Lincoln have now grossed $44.1m (£28.1m) and $9.3m (£5.9m), respectively, in the UK. Life of Pi scooped two BAFTAs last night, while Lincoln won just the one for Daniel Day-Lewis from ten nominations.
Meanwhile, Fox's Hitchcock opened with a $955,000 (£608,835) debut from its 407 sites to chart eighth.
This week sees saturation releases for Entertainment's Beautiful Creatures (opens Feb 13), Fox's A Good Day to Die Hard (opens Feb 14) and Universal's This Is 40 (opens Feb 14). Warner Bros' Sammy's Adventures 2 receives a wide release following previews this past weekend, while Axiom's Side By Side and Ball Park's Run For Your Wife (opens Feb 14) are among the films receiving a limited release.