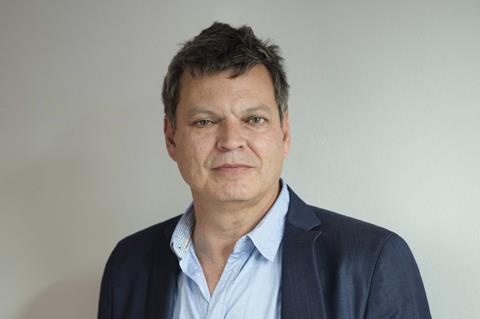 Ben Gibson, the UK director of Berlin's prestigious German Film & Television Academy (DFFB), is reported to have been "suspended until further notice" following an incident during the Berlinale.
In a statement to Germany's dpa news agency on Tuesday, Christian Gaebler, head of the Berlin State Chancellery, confirmed: "Following an incident on Friday, which was brought to our attention on Monday, the Director was suspended by me in my capacity as Chairman of the Board of Trustees until further notice."
According to a report in the local Berlin newspaper Der Tagesspiegel on Tuesday evening (February 25), Gibson lowered his trousers and showed his bare bottom in the direction of a woman with whom he had been engaged in a noisy verbal altercation on the film school's terrace in the Sony Center when she began criticising his directorship of the DFFB.
Gaebler added the DFFB would now be gathering statements from students who witnessed the incident, and the film school's Board of Trustees "will deal with everything and make the necessary decisions in its meeting on 6 March, which had been planned for some time."
Der Tagesspiegel quoted from an email Gibson had sent last Friday after the incident in which he said he had been provoked into this action which he now described as a "serious mistake" and offered his apologies.
Gibson began his five-year contract as the DFFB's director in February 2016. He joined from the Australian Film Television & Radio School, where he had worked as director, degree programs, since 2014. He was previously head of the London Film School from 2001 to 2014. Prior to that, Gibson worked as an independent distributor and producer in the UK and was head of production at the BFI from 1988 to 1998.
According to Der Tagesspiegel, there is reportedly growing dissatisfaction with the direction being taken by Gibson at the DFFB and there is now understood to be movement within the student body to block any extension of his contract past 2021. Criticism of Gibson was conveyed in a letter from the students to the Board of Trustees, according to Der Tagesspiegel.
None of the parties were available for comment, according to Der Tagesspiegel.
The traditional DFFB reception on the ninth floor of Filmhaus at the Sony Center complex will be held tonight (February 26) but without its Director in attendance for the first time.
This story was updated on March 11. Since publication of this article, Ben Gibson has issued a statement recounting his version of events. We have reported Mr Gibson's statement here.