Accountancy firm release statement after chaotic finale to Academy Awards.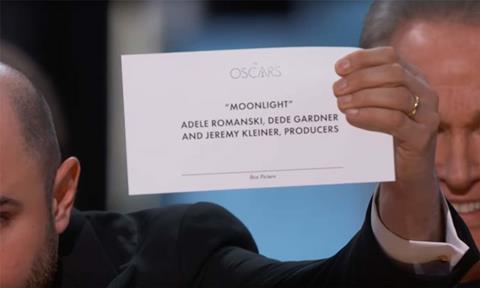 PricewaterhouseCoopers (PwC) has released a statement apologising for the mix-up at this year's Oscars that saw La La Land accidently announced as the best picture winner, instead of the actual winner Moonlight.
PwC, the official accountant of the Academy Awards, said in a statement released to media outlets:
"We sincerely apologize to "Moonlight," "La La Land," Warren Beatty, Faye Dunaway, and Oscar viewers for the error that was made during the award announcement for Best Picture. The presenters had mistakenly been given the wrong category envelope and when discovered, was immediately corrected. We are currently investigating how this could have happened, and deeply regret that this occurred.

"We appreciate the grace with which the nominees, the Academy, ABC, and Jimmy Kimmel handled the situation."
In a shock finale to Sunday's 89th Academy Awards, Moonlight was named best picture moments after La La Land had been declared the winner in error.
Faye Dunaway had announced the musical as the winner at the Dolby Theatre after co-presenter Warren Beatty, who opened the envelope and appeared lost for words, handed it to his Bonnie And Clyde co-star.
As chaos reigned, Beatty walked up to the microphone and explained the envelope read, "Emma Stone, La La Land".