On Tuesday the Los Angeles Film Festival (LAFF) top brass announced several free community screenings to take place during the 21st edition of the festival.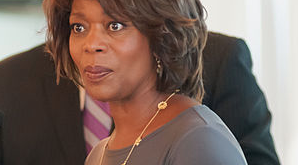 The roster includes the 15th anniversary screening of Love & Basketball, The LXD: The Uprising Begins and Who Framed Roger Rabbit.
Social impact free screenings include American DREAMers, Bridging The Divide: Tom Bradley And The Politics Of Race and HBO's Requiem For The Dead: American Spring 2014.
The annual Coffee Talks Panels feature Bryce Dallas Howard, Alfre Woodard (pictured), Kathryn Hahn and David Koechner, among others.
"The LA Film Fest is about bringing the community together through our partnership with the UN, free screenings of favorite anniversary titles, social impact premieres, a members-only screening of a fantastic new film, Fan Girl and our signature event populated by A-list talent, Coffee Talks," said LAFF director Stephanie Allain.