Dir: Antonio Campos. US. 2016. 119mins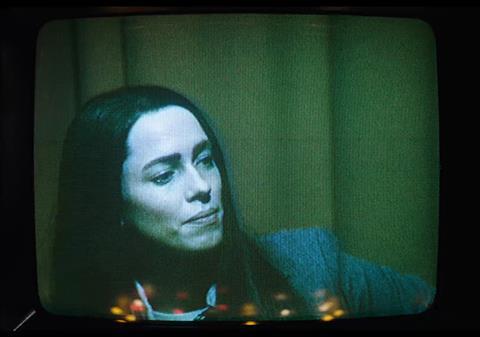 Christine is a devastating portrait of a woman drowning in front of our eyes. Dramatizing the final months in the life of Christine Chubbuck, a television journalist in Florida who committed suicide on the air in 1974, the latest film from director Antonio Campos articulately explores depression and helplessness but is also sensitive and humble enough not to presume to have all the answers for why this sad, driven reporter took her life. A magnificent performance from Rebecca Hall is Christine's clear highlight, but the entire ensemble shines in this stripped-down but deeply sympathetic drama.
Hall has impressed in everything from Vicky Cristina Barcelona to 2015's The Gift, but her work in Christine is a revelation
Screening as part of Sundance's US Dramatic competition, Christine covers a tragic, forgotten corner of American journalism, which may make the film more of a curiosity than a must-see for some audiences. (Interestingly, though, it's one of two films at this year's Sundance about Chubbuck, the other being documentarian Robert Greene's Kate Plays Christine.) But the betting is that rave reviews (especially for Hall) will help erase any such reservations, making this an art-house sensation.
Hall plays Chubbuck as a perpetually anxious, awkward and ambitious individual. Stuck working at a backwater local news station in Sarasota, Florida, she has landed here after an unspecified unfortunate incident that occurred in Boston which she is loath to discuss. In love with charismatic nightly anchor George Ryan (Michael C. Hall), she dreams of transferring with him to a more attractive market in Baltimore, but her humourless manner and so-so field segments make that proposition seem incredibly unlikely.
With Afterschool and Simon Killer, Campos demonstrated a fascination with uneasy, sometimes unpleasant characters. Christine builds to its inevitable final act in which Chubbuck shoots herself, but Campos does not approach her death (or her life) with the dispassionate, leering chilliness of a forensic scientist.
To be sure, Christine offers suggestions into the different stresses that were weighing on her before she killed herself, but the film resolutely refuses to offer any explanation or to judge her because of her final act. That doesn't mean that Campos and screenwriter Craig Shilowich aren't incredibly thoughtful and meticulous in their laying out of Chubbuck's unhappy existence. This is a movie that slowly and carefully unspools information about its main character, portraying her as an ambitious go-getter who didn't quite have the talent to reach her career goals.
At the same time, though, it's clear that Chubbuck (who was close to turning 30 when she died) suffered from emotional and possibly mental problems. As played by Hall, Chubbuck is always just slightly noticeably uncomfortable in every situation, her forced smile seemingly a defence mechanism she wields to try to ingratiate herself with others. A virgin who has trouble with intimacy — even around her mother (J. Smith-Cameron), who she lives with — Chubbuck is the quintessential lost soul, a melancholy, enervating condition exacerbated by her high-pressure job.
Hall has impressed in everything from Vicky Cristina Barcelona to 2015's The Gift, but her work in Christine is a revelation. It's tempting to dredge up clichés in order to laud her performance — she disappears into the role, she transforms herself — but they're inadequate to describe the heartfelt emptying-out that Hall has achieved. She and Campos are conscientious about taking into account both the external and internal obstacles that bedevil this woman, and Hall does a wondrous job crafting a sympathetic but layered portrayal. Based on the evidence of this movie, one of the best things about Chubbuck was that she never gave up on herself. And one of the worst was that, far too often, she was her own worst enemy, lashing out at the wrong time or failing to pick up on social cues at a crucial moment.
Outside of an occasionally twitchy music cue, Christine portrays Chubbuck's world with utter realism, which ends up making her torments seem almost blandly normal. At any point in Christine, she might seem a little odd, but there's never any clear indication — no cheap narrative ploy — to signal the beginning of her mental unravelling. In this way, the filmmakers persuasively argue that it was an arduously gradual succession of small moments that led to her downfall.
Hall rightly dominates the film, serving as its quiet, nervous centre, but Christine is no one-woman show. Michael C. Hall is marvellous as George, conceiving the character as more than just a hollow pretty face. In truth, George seems to be drawn to Chubbuck, perhaps connecting with her insecurity, and it leads to several remarkable scenes, including one in which he brings her to a self-help seminar that has worked wonders for him.
Tracy Letts is superb as Chubbuck's harried, easily annoyed boss, embodying the crushing mundaneness of local TV news. Playing Chubbuck's mother, Smith-Cameron is a bundle of nerves, endlessly worried about her daughter but powerless to help her.
As for Maria Dizzia, she is perhaps destined to be underappreciated for what she brings to Christine. She plays Chubbuck's loyal co-worker who's mostly in the background of the drama. But the actress winds up delivering one of the film's most heart-breaking moments near the end that brilliantly synthesises much of what Christine has been exploring: the casual cruelty of life, the ways that people try to cope, and the nagging worry that maybe very little of what we do matters. There are no pat explanations for what happened to Chubbuck, and no convenient bogeymen. There's simply an abundance of sorrow, and a recognition that some people (for myriad reasons) have an easier time getting through life than others.
Production companies: Great Point Media, Wonder Club, Fresh Jade Limited, Borderline Films
International sales: UTA, Wierengo_h@unitedtalent.com and Flynn_d@unitedtalent.com; and WME Global, sracanelli@wmeentertainment.com
Producers: Melody C. Roscher, Craig Shilowich
Executive producers: Robert Halmi Jr., Jim Reeve, Sean Durkin, Josh Mond
Screenplay: Craig Shilowich
Cinematography: Joe Anderson
Production design: Scott Kuzio
Editor: Sofia Subercaseaux
Music: Saunder Jurriaans & Danny Bensi
Main Cast: Rebecca Hall, Michael C. Hall, Tracy Letts, Maria Dizzia, J. Smith-Cameron, Timothy Simons, John Cullum