A family wedding in Palestine puts strain on a father-son relationship in this wry family drama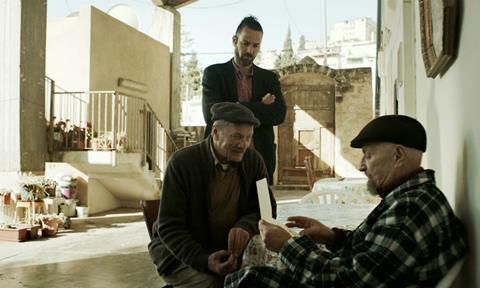 Dir/Scr: Annemarie Jacir. Palestine-France-Germany-Colombia-Norway-Qatar-United Arab Emirates. 2017. 96 mins
A prodigal son's Palestinian homecoming is marked by family obligations, comforting white lies and concerted efforts at matchmaking in Wajib, a wryly-observed family drama from writer/director Annemarie Jacir. The modest, understated nature of the production probably works against great commercial expectations, but the writing is sharp and the situations should strike a universal chord across the generation gap. Substantial festival interest should follow a world premiere in Locarno.
Naturalistic, nicely paced and well played by the lead actors,
Loosely inspired by events in her own family, Jacir's film follows Shadi (Saleh Bakri) as he returns to Nazareth for the wedding of his sister Amal (Maria Zreik). Tradition dictates that he should accompany his schoolteacher father Abu Shadi ( Mohammad Bakri) as they personally hand deliver wedding invitations to a large extended family, friends and anyone else considered an essential guest.
Abu Shadi is a schoolteacher, divorced from a wife who left him and the country many years ago. It becomes clear that the pain of that is still raw. Shadi is an architect who now lives in Rome with his girlfriend. Initial scenes suggest a distance between them. They are as polite as two strangers, but eventually niggling comments and tensions rise to the surface.
Encounters with family members reveal that Abu Shadi has been less than truthful about his son. He has neglected to mention that he gave up his medical studies and has seen no reason to correct those who think he is living in America or assume that he is intent on coming back to Nazareth. Abu Shadi also cannot resist an opportunity to pique his son's interest in any available woman. After one warm reunion, he ruefully comments: " It's too bad people don't marry their cousins any more."
Wajib could almost be called a road movie as father and son spend a good deal of their time driving between destinations in Nazareth. There is a faint echo of Kiarostami films, especially Ten (2002), as we witness the two men seated side by side and listen to their interactions. Their clashes of values, aesthetics and even feelings about Nazareth pepper the film with wry chuckles. Everything becomes a battlefield, with Abu Shadi even critical of his son's wardrobe and man bun hairstyle.
Anyone can recognise that these are the conversations one has with a well-meaning parent, where exasperation hides behind a facade of saintly patience. The film doesn't seem overtly political, but commentary heard on the car radio refers to Israel's control of exports and Nazareth is depicted as a city where rubbish is piled up on the streets, traffic is impossible and minor aggravations easily boil over into open conflict.
The political becomes more apparent when the two men deliver some home truths about why Shadi had to leave Nazareth, and how different the country feels in exile compared to the experience of those who still live in it every day.
Naturalistic, nicely paced and well played by the lead actors, Wajib succeeds at making us invest in its fragile father/son relationship and willing them to acknowledge that there is more that unites them than threatens to drive them apart.
Production companies: Philistine Films
International sales: Pyramide International sales@pyramidefilms.com
Producer: Ossama Bawardi
Cinematography: Antoine Heberle
Editor: Jacques Comets
Production design: Nael Kanj
Main Cast: Mohammad Bakri, Saleh Bakri, Maria Zreik