Dir. Aleksander Bach, US, 2015. 96 mins.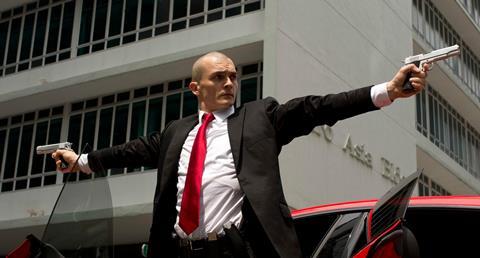 All clothes and attitude, this second feature to be derived from the Hitman video game replaces 2007's Timothy Olyphant with British actor Rupert Friend in a stylishly hollow action film directed by first-timer Aleksander Bach. Stunning Singapore locations only serve to underline how much HITMAN: Agent 47 would like to be a John Woo film, and how beautifully calibrated those Chow Yun-fat projects were. Consistently off by a beat, HITMAN: Agent 47 fails to ever click into tune, although a late-summer blitz through Fox could see it through to decent home viewing figures, despite a lack of proven marquee names.
The music, the shots, the costumes, the hair (or lack of it) – they're facsimiles of cool which are just a key off from the get-go in a genre which requires perfect timing and precision to survive.
Roundly panned, the low-budget 2007 Hitman turned a profit; 2015's outing is a more ambitious and fiscally nourished affair, also featuring Star Trek's Zachary Quinto as shadowy agent John Smith (a name which can only bring to mind Hugo Weaving in The Matrix, and not in a favourable way). British actress Hannah Ware steps up to her first feature lead, and all three actors deliver their roles with palpable conviction, which resonates loudly in a film which is a hollow drum (Homeland's Friend was a replacement for the late Paul Walker).
Hitman has one idea: enough to power a video game, perhaps, but not quite a feature. Agent 47 (Friend) is a cold-blooded, genetically-altered assassin working for the International Contracts Agency, trained to kill without conscience. Katia (in a similar set-up to Hanna) has also been groomed by her father, the missing genetic scientist Litvenko (Ciaran Hinds), even if she doesn't yet know it. A shadowy outfit called The Syndicate wants to re-start the agent programme and is hunting for 'the girl', even as Katia is hanging around basement archives in Berlin looking for evidence that will lead to her father.
Soon Katia encounters John Smith (Quinto), another operative who claims he can save her from Agent 47. The chase, then, is on, and first-timer Bach relies on smart suits and old-fashioned armed combat as opposed to Terminator-style effects or Mission Impossible car chases to prower his protagonists on foot through the Berlin subways. Eventually, after some awkward shoot-ups in Alexsanderplatz station in which Quinto's double is clearly visible, they move on to Singapore, where the city state's Gardens By The Bay provide a stunning backdrop to more rote action sequences. (Why, for example, are all the cars on the Heat-style street set-piece apparently empty taxis which have stopped in even single files? — even though this is ordered Singapore, it does look questionable.)
Cinema is littered with cool-blooded assassins, the most successful - from Alain Delon in Mieville's Le Samourai on down to Leon, Nikita and even The Bride - have a back-story as they come to terms with their nature and fulfil their destinies. The Killer's Jeffrey took 'one last job' to pay for an operation for the chanteuse he blinded. Rupert Friend's Agent 47 walks into Berlin's American embassy armed to the gills, but Bach's imitation game feeds the audience paltry narrative crumbs as the guns start firing. Who is he? Who cares? The music, the shots, the futuristic interiors, the costumes, the hair (Friend's bald pate, Quinto's fearsomely groomed floppy barnet) – they're facsimiles of cool which are just a key off from the get-go in a genre which, like the assassins themselves, requires perfect timing and precision to survive.
Production companies: Daybreak, Adrian Askarieh, Giant Pictures
Contact: 20th Century Fox
Producers: Charles Gordon, Adrian Askarieh, Alex Young, Skip Woods, based on the video game HITMAN
Screenplay: Skip Woods, Michael Finch
Cinematography: Ottar Gudnason
Editor: Nicolas De Toth
Production design: Sebastian Krawinkel
Costume design: Bina Daigeler
Music: Marco Beltrami
Main cast: Rupert Friend, Hannah Ware, Zachary Quinto, Ciaran Hinds.