Dir: Jake Szymanski. US. 2016. 98mins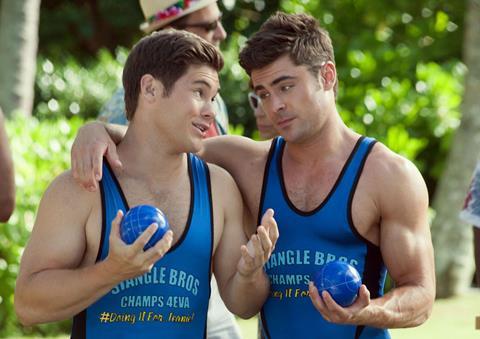 Desperately striving for the raucous, R-rated irreverence of Wedding Crashers, Mike And Dave Need Wedding Dates expends a lot of energy trying to convince viewers of its edgy, outrageous impertinence. Alas, there's very little that's shocking — and not nearly enough that is funny — about this romantic comedy in which two hopeless horndogs take two seemingly demure ladies to their sister's wedding, only to discover that the women are as twisted as they are.
Mike and Dave's (as well as Alice and Tatiana's) stupidity is rarely cutting or surprising — it's merely garden-variety immaturity
Anna Kendrick and Zac Efron have a few isolated enjoyable moments, but first-time feature director Jake Szymanski doesn't build comic momentum so much as lurch from one belaboured set piece to another.
Opening on July 8 in the US, Mike And Dave is the second R-rated comedy this summer to star Efron, and no doubt Fox is hoping its movie will fare better than the commercially underwhelming Neighbors 2: Sorority Rising. Efron and Kendrick have their fans, and they're joined by Aubrey Plaza and Adam Devine, who was Kendrick's Pitch Perfect costar. Those looking for a sex-and-drugs-obsessed comedy might be satisfied, but Mike And Dave may have a tough time expanding beyond that base, especially with the Ghostbusters reboot to contend with.
Based on actual events, the movie introduces us to Mike (Devine) and Dave (Efron), terribly childish brothers who have a reputation for wreaking havoc at any party they attend. With their younger sister Jeanie (Sugar Lyn Beard) about to get married in Hawaii, their parents insist that they must bring respectable dates rather than going stag so that they're not just shamelessly hitting on all the single women.
Putting an ad on Craigslist, Mike and Dave attract plenty of attention, including from Alice (Kendrick) and Tatiana (Plaza), party-hearty bad girls who clean up their act to trick the guys into taking them.
From the outset, Mike And Dave encourages us to laugh at these two idiots, hoping we'll find their self-centred behaviour hilarious in its brazen awfulness. Likewise, the arrival of Alice and Tatiana is meant to raise the comedic stakes, these dopey brothers finally meeting their obnoxious soul mates. But screenwriters Andrew Jay Cohen and Brendan O'Brien (who wrote Neighbors and its sequel) haven't crafted funny characters, mistakenly assuming that their unrepentant shallowness will be enough to sustain the comedy. Mike and Dave's (as well as Alice and Tatiana's) stupidity is rarely cutting or surprising, however — it's merely garden-variety immaturity.
Predictably, Szymanski (who previously directed the HBO movie 7 Days In Hell) unimaginatively follows the derivative tonal template for this kind of button-pushing comedy. If the first half of the movie is filled with extreme humour involving inappropriate sexual situations and violent physical comedy, then it's a good bet that the second half will reveal that, deep down, our lovable lunkheads actually have good hearts.
Composer Jeff Cardoni oversells every remotely emotional moment with a syrupy score, which becomes grating as Dave and Alice start to lower their guard around each other and share their hopes and fears. Mike And Dave wants to have it both ways, being both appalling and touching, but the filmmakers don't demonstrate an ability to do either well.
Kendrick always radiates smartness and sweetness onscreen, so this supposed bad-girl character she's playing in Mike And Dave works against her strengths, while Plaza brings some sexy, cold-blooded calculation to the scheming Tatiana. As for the guys, Efron has done good work in Neighbors and elsewhere playing off his good looks, happily portraying the handsome numbskull. He's the straight man to Devine's more outlandish older brother, but because the characters are just slight variations of the same macho moron, there's very little fun interplay. Mike is meant to be a volatile blowhard whose bluster belies deep insecurities, which might have been more effective if the actor didn't exude smarm whenever a little tenderness is called for.
Production companies: TSG Entertainment, Chernin Entertainment
Worldwide distribution: Fox, www.foxmovies.com
Producers: Peter Chernin, Jenno Topping, Jonathan Levine
Executive producers: David Ready, Andrew Jay Cohen, Brendan O'Brien, Nan Morales
Screenplay: Andrew Jay Cohen & Brendan O'Brien, inspired by the life stories of Mike Stangle and Dave Stangle
Cinematography: Matthew Clark
Production design: Tyler Robinson
Editors: Jonathan Schwartz, Lee Haxall
Music: Jeff Cardoni
Website: www.foxmovies.com/movies/mike-and-dave-need-wedding-dates
Main Cast: Zac Efron, Anna Kendrick, Adam Devine, Aubrey Plaza, Stephen Root, Sam Richardson, Sugar Lyn Beard