Director: Deniz Gamze Ergüven. Turkey. 2015. 97mins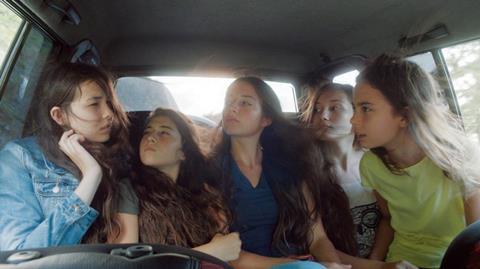 In Mustang, what begins as a playful look at five young women's rebellion against their strict upbringing soon becomes something far more stirring and emotional. First-time feature director Deniz Gamze Ergüven has crafted a story of female empowerment which is attuned to the buoyancy of adolescence, but she's also deeply critical of a modern Turkish patriarchy in which women still struggle to be equal citizens. Buoyed by a cast led by appealing newcomer Güneş Nezihe Şensoy, Mustang is a deceptively simple tale bearing an urgent message.
Ergüven, who cast mostly unknowns, emphasises the sisters' camaraderie, which comes through in every laughing conversation and tense scheming scene.
Screening in Directors' Fortnight at Cannes, Mustang has sold widely internationally, including a North America pick-up by Cohen Media Group in North America which has planned an early 2016 release. Critical word-of-mouth will boost this film without any stars, although Mustang's young-women-boarded-away plot may remind art-house viewers of The Virgin Suicides, drawing additional interest.
The story takes place in a small Turkish community where Lale (Şensoy), the youngest of five sisters, narrates what happened after a neighbour mistakenly confused their harmless goofing-around with a bunch of boys as sexual deviancy. The sisters' parents have been dead for a decade, and their overly protective uncle Erol (Ayberk Pekcan) decides that these girls have too much freedom, forbidding them to leave the house and forcing them into arranged marriages. Slowly but surely, though, Lale and her siblings — who range from grade-school age to teenagers — will struggle against their uncle's oppression.
Working from a script she co-wrote with Alice Winocour (who directed the Un Certain Regard selection Disorder), Ergüven takes her time laying out the subtle psychological horrors weighing on these girls. Initially, Mustang has a winning breeziness, as the feisty Lale and her equally spirited sisters — particularly eldest sibling Sonay (İlayda Akdoğan), who drives the local boys crazy — flaunt their blossoming sexuality, conspiring against their conservative uncle and reactionary grandmother (Nihal Koldaş).
These young women make for delightful company, but soon Ergüven ups the ante as Erol imposes harsher restrictions, eventually leaving them locked up in their house as if it was a prison. A similar circumstance faced the Lisbon sisters in The Virgin Suicides, but Mustang's claustrophobic setting also recalls the twisted Greek drama Dogtooth, in which manipulative parents tricked their children into believing that leaving the family home would be dangerous.
Mustang never becomes as demented as Dogtooth, but the sickening subjugation of these women becomes increasingly infuriating, and Ergüven does a marvelous job putting us in the mindset of her protagonists, trapping us right along with them. Adding to the irritation is Pekcan's expertly deplorable performance as the girls' uncle, the character's condescending, brusque attitude a pungent stand-in for a society that believes it knows best how young women should comport themselves.
With five main characters, Mustang can sometimes be overwhelmed by personalities, making it difficult to tell individual sisters apart. But Ergüven, who cast mostly unknowns, emphasises the sisters' camaraderie, which comes through in every laughing conversation and tense scheming scene. As the movie's narrator and central focus, Şensoy is radiant, her natural charm crucial as we watch Mustang move into tragic and more melodramatic terrain in its second half. At first, Lale's indignant behaviour can seem a little bratty. But after the humiliations these sisters face during Mustang, it becomes obvious that, if anything, she has a right to be even more enraged than she already is.
Production companies: CG Cinéma, Bam Film, Vistamar Filmproduktion, Uhlandfilm, Canal +, Ciné+, ZDF/ARTE
International sales: Kinology, festivals@kinology.eu
Producer: Charles Gillibert
Screenplay: Deniz Gamze Ergüven, Alice Winocour
Cinematography: David Chizallet, Ersin Gok
Editor: Mathilde Van de Moortel
Production designer: Serdar Yemisci
Music: Warren Ellis
Main cast: Güneş Nezihe Şensoy, Doğa Zeynep Doğuşlu, Elit İşcan, Tuğba Sunguroğlu, İlayda Akdoğan, Nihal Koldaş, Ayberk Pekcan