The Berlinale opens with a muted adaptation of Joanna Rakoff's popular memoir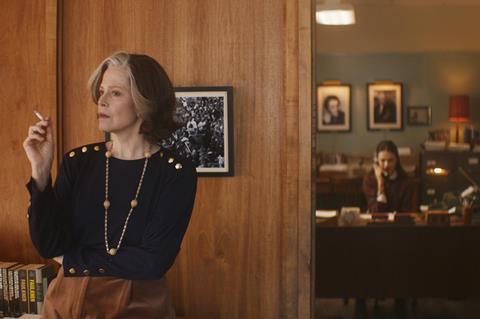 Dir: Philippe Falardeau. Canada/Ireland. 2020. 101 mins
In this staid, somewhat muted adaptation of the acclaimed memoir by Joanna Rakoff, Margot Qualley plays the author as a young writer who comes to New York in the mid-90s with big dreams but soon finds herself in a menial job at a literary agency run by a grand dame (Sigourney Weaver) who insists that staff still use typewriters and regards computers with a patrician disdain.
The popularity of Rakoff's book will likely be a selling point for a film which is rather too politely mild-mannered to draw in audiences on its own merits alone
The agency represents the famously reclusive author J D Salinger, and Joanna is tasked with reading and destroying the letters sent to him by adoring fans by the sackful each week. Her instructions are to reply, using one of the stock answers which have remained unaltered since 1963. But the letters from "Jerry's" fans touch a nerve, their voices becoming characters in Joanna's own life story.
Written for the screen by director Philippe Falardeau, (Oscar-nominated for Monsieur Lazhar in 2011), My Salinger Year contains some fictionalised elements but largely remains true to the spirit of the source material. It's a decision which acknowledges that the popularity of Rakoff's book will likely be a selling point for a film which is rather too politely mild-mannered to draw in audiences on its own merits alone. An appetising cast list, in particular Sigourney Weaver in the role of agency boss Margaret, might also draw interest to a picture which could connect with middle brow audiences on VOD platforms or, given an aggressive marketing push, perhaps theatrically.
My Salinger Year unfolds against the backdrop of a culture – the New York literary world of the mid 90s – which is about to change forever. The agency at which Joanna finds herself is a shrine to past triumphs, a relic of a time gone by. It is suggested that the computer, grudgingly given desk space but never turned on, should be covered so as not to upset the equilibrium of the office. Viewed through a lens of nostalgia, the workplace is wood-panelled, with the colour palette of a cigar box and a hazy quality to the light which nods to an era before the enforcement of smoking bans.
Joanna's life is one of stark juxtapositions: she flits between the propriety and prescribed way of doing things at work, and the unvarnished scrabble of life on limited means in the city (Montreal doubles for New York, providing decent facsimiles for pre-gentrification Williamsburg and Mid Town Manhattan). But perhaps because she slips between the two worlds so seamlessly, she doesn't particularly assert herself as a character. Although an actor of considerable charm, Qualley struggles to imbue the role with much in the way of texture or substance. And there are few moments in the film when we find ourselves curious to hear Joanna's thoughts on a subject. (They are delivered nonetheless, through the device of a narration to camera.)
The trajectory of Joanna is a familiar one: from gauche newcomer in a closed world, to polished success, to the realisation that the job is not for her. The picture will likely draw comparisons with The Devil Wears Prada, even if, in fact, the two films are tonally quite dissimilar. Comedy in My Salinger Year is understated: while Meryl Streep's monstrous boss in Prada stamps her presence on every scene, Weaver's approach is more aloof and distant – she flicks Joanna away from her like cigarette ash – but the character is ultimately more sympathetic.
And what of Salinger? As befits the elusive literary legend, his shadow looms large, but his actual physical presence in the film is negligible. Instead, the film engages with the fans who are touched by his work, offering us glimpses into the lives of those whose letters Joanna dutifully shreds. The transporting power of art is a difficult thing to capture in cinema at the best of times, and this film struggles to do so, leaning heavily on a score which signposts the emotional content of each scene a little too emphatically.
Outside of work, Joanna stumbles into a relationship with a fellow aspiring writer (Douglas Booth), who lets her pay the rent but despises her for the part she plays in "commerce" rather than art. Her other friendships are thinly sketched. We are left with the nagging suspicion that her association with Salinger, however tenuous, might be the most interesting thing about Joanna.
Production company: micro_scope
International sales: Memento Films International sales@memento-films.com
Producers: Luc Déry, Kim McCraw
Screenplay: Philippe Falardeau
Editing: Mary Finlay
Cinematography: Sara Mishara
Production Design: Élise de Blois
Music: Martin Léon
Main cast: Margaret Qualley, Sigourney Weaver, Douglas Booth, Seána Kerslake, Brían F. O'Byrne, Colm Feore, Théodore Pellerin, Yanic Truesdale, Hamza Haq, Leni Parker