Dir: Chris Columbus. US. 2015. 105mins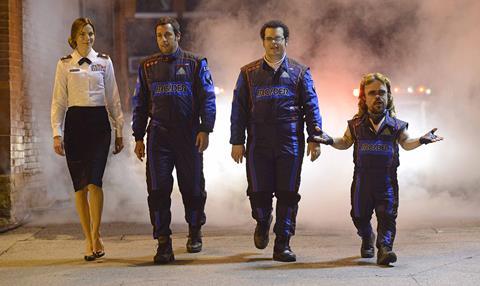 There's a lot going on in Pixels: genial comedy, softish action, a dash of sci-fi, the teaming of boyish director Chris Columbus with schlubby leads Adam Sandler and Kevin James, eye-catching 3D effects and a dose of video game-fuelled eighties nostalgia. But while the package should be amply attractive to a broad family audience, what's inside it might prove a bit tame for many adults and not enough fun for kids which could make this would-be midsummer blockbuster a tricky sell for worldwide distributor Sony.
Sporting a flowing mullet and aviator shades, Peter Dinklage perks things up considerably as the story's comically arrogant bad-boy-turned-good-guy
A wide North American opening on July 24 slots the film between other family-friendly releases and will test Sandler's pull after last summer's under-performing Blended and James' commercial potential after this year's Paul Blart: Mall Cop 2. Neither star is as big outside the US, but the family appeal could still be strong in many international markets.
Based on an Annency Crystal-winning animated short by France's Patrick Jean, and scripted by Timothy Dowling (Role Models and Sandler's Just Go With It) and regular Sandler collaborator Tim Herlihy, Pixels kicks off with a 1982 prelude introducing arcade game child prodigy Sam, his smart best friend Will, nerdy Ludlow and nemesis Eddie.
Thirty years later, Sam (played as an adult by Sandler) is a home theatre installer and Will (James) is US president when aliens attack the Earth in the guise – because they've intercepted some vintage game footage – of classic arcade game characters. Sam, Ludlow (The Wedding Ringer's Josh Gad) and eventually Eddie (Game of Thrones' Peter Dinklage) are recruited by Will to help military scientist Violet Van Patten (Michelle Monaghan) fight back against giant and destructive versions of Space Invaders, Donkey Kong, Pac-Man and other arcade favourites.
Often feeling like a Ghostbusters re-boot a year ahead of the actual Ghostbusters re-boot (a female take on the eighties classic, set for release next July), the film skips from Guam to India to London to New York, following the alien attacks, bringing together the 'Arcaders' alien-fighting team and setting up a romance between Sam and Violet.
Columbus, best known recently for the first two Harry Potter films but here returning to the tone of his early Goonies and Gremlins scripts, orchestrates it all competently if not particularly imaginatively.
There are witty touches – the aliens deliver their challenges to the human race through manipulated images of eighties celebrities, from Ronald Reagan to Tammy Faye Bakker to Madonna – but there's also a mechanical feel to the action, particularly in a final act that employs cute animated character Q*bert (who also appeared in Disney's 2012 Wreck-It Ralph) to boost kid appeal.
The 3D cinematography uses stereo depth to accentuate effects work that brings the vibrantly colourful and hyper-kinetic game characters to pretty impressive life.
The human performances are engaging enough, though they occasionally reveal why combining live action with CG animation can be a challenge for actors as well as VFX houses. Sandler delivers another version of what's become his softer, more likeable screen persona and James (recently teamed with Sandler in both Grown Ups films) plays partially against type as an unpopular but down to earth chief executive.
Sporting a flowing mullet and aviator shades, Dinklage perks things up considerably as the story's comically arrogant bad-boy-turned-good-guy. Fun cameos come from original Ghostbuster Dan Aykroyd, a game Serena Williams, Martha Stewart and Pac-Man creator Toru Iwatani.
Production companies: Columbia Pictures, LStar Capital, China Film Co, Happy Madison Productions, 1492 Productions, Film Croppers Entertainment
Worldwide distribution: Sony Pictures Entertainment
Producers: Adam Sandler, Chris Columbus, Mark Radcliffe, Allen Covert
Executive producers: Patrick Jean, Benjamin Darras, Johnny Alves, Matias Boucard, Seth Gordon, Ben Waisbren, La Peikang, Jack Giarraputo, Steve Koren, Heather Parry, Barry Bernardi, Michael Barnathan
Screenplay: Tim Herlihy, Timothy Dowling
Director of photography: Amir Mokri
Production designer: Peter Wenham
Editor: Hughes Winborne
Music: Henry Jackman
Visual effects supervisor: Matthew Butler
Website: www.pixels-movie.com
Main cast: Adam Sandler, Kevin James, Michelle Monaghan, Peter Dinklage, Josh Gad