Dir: Antoine Fuqua. US-China. 2015. 123mins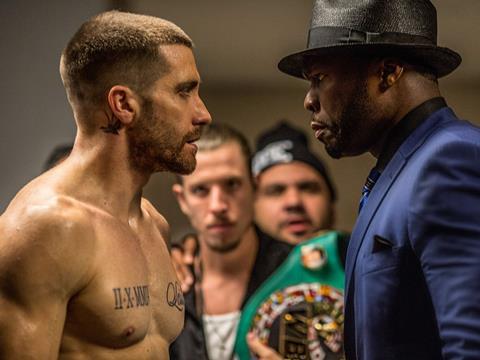 Much like its title, Southpaw has a blunt, anonymous quality, this tale of a world-class boxer laid low who must pick himself up and regain his former glory intermittently compelling but mostly perfunctory. Playing the umpteenth cinematic pugilist looking for a shot at redemption (and a chance at the championship belt), Jake Gyllenhaal brings likeability and commitment to a raw role, but despite a strong supporting cast director Antoine Fuqua never quite transcends the proceedings' gritty, melodramatic blandness. A lot of care, heart and craft have been thrown at awfully familiar material.
No doubt there will be plenty of articles detailing the gruelling training Gyllenhaal went through to prepare for this demanding role, but one wishes he had more to show for it.
Premiering at the Shanghai Film Festival and slotted for release in the US on July 24, this Weinstein Company offering looks to be a modest theatrical performer that will benefit from the presence of Gyllenhaal, as well as Rachel McAdams, Forest Whitaker and Curtis "50 Cent" Jackson. Boxing movies are a reliable Hollywood staple, although Southpaw's lack of flash — not to mention the fact that it isn't based on a true story — will probably work against the movie commercially. Mixed reviews which will acknowledge Gyllenhaal's muscular performance might drum up interest, as will a dearth of comparable adult mainstream dramas in the marketplace at that time. Still, Southpaw could be a sturdier home-video player, when the curious decide to give it a shot after its big screen career.
As the film opens, light heavyweight champion Billy Hope (Gyllenhaal) is slaying another foe in the ring, his undefeated record making him a rich, beloved fighter. But his smart, loyal wife Maureen (McAdams) fears that his aggressive, reckless style is eventually going to catch up with him and leave severe brain injuries that will hamper him the rest of his life. (As is typical with these types of sports films, Billy's headstrong insistence on ignoring defence and just throwing punches wildly is a flaw in his makeup that he needs to learn to overcome, both in a literal and metaphorical sense.)
But Billy's happy life with Maureen and their young daughter Leila (Oona Laurence) comes to a tragic end after he gets involved in an altercation with a rising hotshot fighter, Miguel Escobar (Miguel Gomez), at a gala, the skirmish leading to random gunshots with Maureen killed in the crossfire. Quickly, Billy loses everything — his fortune, his title, even his daughter to child protective services — and must return to the same Hell's Kitchen streets in New York where he grew up in foster care. Recruiting legendary trainer Tick Wills (Whitaker), Billy prepares for his comeback while trying to win back custody of Leila.
Working from a script by Kurt Sutter (a producer on the TV drama The Shield and the creator of Sons Of Anarchy), Fuqua (Training Day, The Equalizer) gives Southpaw a rough-edged, stripped-down tone that's meant to lend realism and grit to what is, otherwise, a fairly rote macho-tearjerker.
This drama isn't particularly subtle in either its characterisations or its plotting, every turn of the narrative punctuated by a grim urgency that tends to oversell the stakes of what's occurring. Whether it's Maureen's cruelly unfair death or Billy's ignominious fall from grace, Southpaw has a furrowed-brow glumness that can feel like a stacked deck against our hero, as if the filmmakers wanted to make sure to throw every obstacle at Billy lest we doubt the severity of his predicament, no matter how inexplicable the individual hardships might be. (For a man apparently so rich, he plummets into destitution oddly fast.)
Much as he did with last year's Nightcrawler, Gyllenhaal disappears into a closed-off, peculiar man who sometimes seems to be more a collection of finely-tuned actor-ly tics than a fully dimensional character. Gyllenhaal does great work exposing Billy's good heart while emphasising the boxer's scrappy demeanour. (Billy constantly mumbles and twitches outside the ring, vulnerable in the traditional world with an elegance and ferocity when he boxes.) But the dedication Gyllenhaal brings to the role ultimately doesn't overcome the threadbare construction: Billy is just one more raging bull thrust into a predictable underdog role who has to win over his daughter while gearing up for the big fight.
Gyllenhaal's all-in sincerity is matched by his costars', although they also bob and weave around cliché. McAdams is just right as the straight-shooting wife. Her role may be small, but it's crucial: Maureen's death is what hastens Billy's emotional collapse but also fuels his desire to start over. Whitaker summons his formidable charisma and quietly imposing confidence to play just another grizzled old pro who dispenses boxing advice that, conveniently, could double as life lessons. As for the other performances, they veer toward the thankless. Naomie Harris tries to bring feeling to her drab social-worker role, while Jackson and Gomez are cardboard villains as Billy's former promoter and main nemesis, respectively.
As one might imagine, Southpaw builds to a kinetic showdown between Billy and Miguel in the ring, and while Fuqua, cinematographer Mauro Fiore and editor John Refoua expertly put together the boxing scenes, their propulsion never really surprises. Like much of the rest of Southpaw, they're executed competently in exactly the way you'd imagine. Even near the end during an emotional scene between Billy and his daughter — Laurence has a nice rapport with her co-star — the movie-ness of the whole affair keeps asserting itself. No doubt there will be plenty of articles detailing the gruelling training Gyllenhaal went through to prepare for this demanding role. One wishes he had more to show for it.
Production companies: The Weinstein Company, Wanda Pictures, Riche, Escape Artists, Fuqua Films
US distribution: The Weinstein Company, www.weinsteinco.com
International sales: The Weinstein Company, www.weinsteinco.com
Producers: Todd Black, Jason Blumenthal, Steve Tisch, Peter Riche, Alan Riche, Antoine Fuqua, Jerry Ye
Executive producers: Bob Weinstein, Harvey Weinstein, Gillian Zhao, Cary Cheng, Jonathan Garrison, Kurt Sutter, David Bloomfield, David Ranes, Dylan Sellers, Ezra Swerdlow, Paul Rosenberg, Stuart Parr, David Schiff
Screenplay: Kurt Sutter
Cinematography: Mauro Fiore
Production design: Derek R. Hill
Editor: John Refoua
Music: James Horner
Website: www.facebook.com/SouthpawMovie
Main Cast: Jake Gyllenhaal, Forest Whitaker, Naomie Harris, Curtis "50 Cent" Jackson, Oona Laurence, Skylan Brooks, Beau Knapp, Rachel McAdams