Dir: Mark Simon Hewis. UK. 2012. 83. 90mins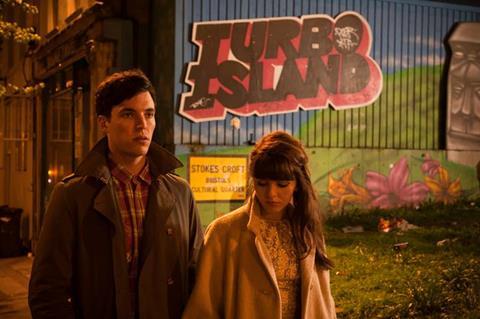 An engagingly offbeat comedy, the Bristol-set 8 Minutes Idle – shot in 2012 but only just getting a UK release thanks to a kickstarter campaign – is a scattershot low-budget affair, blending quirky dark humour with old-fashioned office romance. A talented young cast help give it life though its challenge is finding a local audience to embrace its wry humour.
Ophelia Lovibond, Antonia Thomas and Montserrat Lombard provide a real sense of spark and energy.
Casting of Tom Hughes (from Cemetery Man) and Ophelia Lovibond (No Strings Attached, Mr Popper's Penguins) as the 'will-they-won't-they' love interest as well as a nicely feisty supporting stint from Antonia Thomas (who is attracting attention after her role in Sunshine On Leith) could well help international – and further festival – profile, though buyers will have to be into quirky British humour to get how to pitch the film.
8 Minutes Idle is the second film to go into production as part of South West Screen's microbudget iFeatures scheme, following Into The Dark Hal. The third and final feature to come out of the scheme, which has greenlit three Bristol-set features on a budget of $484,000 (£300,000) each, was romantic drama Flying Blind.
Based upon Matt Thorne's award-winning novel about life in a call centre, the film stars Hughes as Dan Thomas, who has always taken the path of least resistance, drifting though a plodding home and work life.
But when Dan finds himself kicked out of the family home – he let his father (Paul Kaye) into the house, where he promptly stole his estranged wife's winning lottery ticket - he's faced with no option but to secretly move into the call centre where he works. He hides his cat in the roof void above the toilets and proceeds to try and pretend he is living an ordinary life.
But between his tough boss Alice (the excellent Montserrat Lombard); slacker workmates; odd nocturnal life ambling round the empty office and his fondness for workmate Teri (Lovibond), Dan has to try and work out what he wants out life. No longer able to exist in his comfort zone he finally plucks up the courage to try and romance Teri (who has secrets of her own), all set against the backdrop of office shenanigans and moments of smart dark comedy.
Debut director Mark Simon Hewis shows a sure hand at some of the quirky visuals and has some fun puncturing the bubble of the clichéd office comedy genre, but the film lacks a certain energy and favours an episodic nature rather than a real drive or arc. But there are some moments to treasure and Ophelia Lovibond, Antonia Thomas and Montserrat Lombard provide a real sense of spark and energy.
Production companies: iFeatures, Matador Pictures, Cinema Six, Regent Capital, UKFC, BBC Films
International sales: Content Film, www.contentmediacorp.com
Producer: Sarah Cox
Executive producers: Lucia Lopez, Charlotte Walls, Chris Collins
Screenplay: Nicholas Blincoe, Matt Thorne based on Matt Thorne's novel
Cinematography: Sarah Bartles-Smith
Editor: Victoria Stevens
Production designers: Chris Richmond, Kiera Tudway
Music: Mike Smith
Website: www.facebook.com/EightMinutesIdle
Main cast: Tom Hughes, Ophelia Lovibond, Montserrat Lombard, Antonia Thomas, Jack Ashton, Divan Ladwa, Paul Kaye, Pippa Haywood