Dir: John Moore. US. 2013. 97mins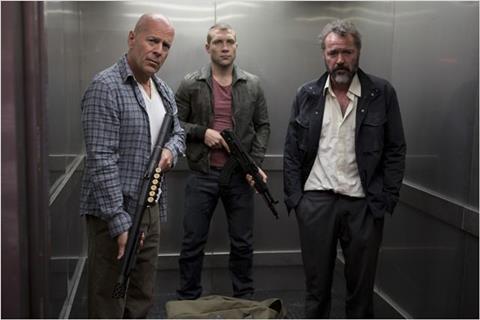 Twenty-five years after the original Die Hard, New York policeman John McClane may not have lost a step, but the franchise that features him sure has. A Good Day To Die Hard, the fifth in this series, lacks much of the charm and spirit of the original, hoping to compensate with strained comic repartee and ludicrously overblown action carnage. Bruce Willis remains a relaxed, lively presence in these films, but the new location (Moscow) and new side character (McClane's son) in some ways merely underline just how impersonal director John Moore's first crack at the Die Hard franchise is.
Without compelling villains or magnetic heroes, A Good Day To Die Hard mostly just rumbles and bellows airlessly.
Opening February 14 in the States, this Fox release will hope to better the previous instalment, 2007's Live Free Or Die Hard, which grossed more than $383m worldwide, the best in the series. Though some competition may arrive next weekend with Snitch, A Good Day To Die Hard looks to have the action crowd mostly to itself, promising strong but perhaps not spectacular theatrical returns. Still, this will be a sturdy ancillary performer, paving the way for what seems like an inevitable Die Hard 6.
In the new film, McClane travels to Russia to find out what has happened to his long-estranged son Jack (Jai Courtney), who, it turns out, is a CIA agent trying to help an informant named Komarov (Sebastian Koch) expose Chagarin (Sergey Kolesnikov), a corrupt politician who wants Komarov silenced. Although Jack deeply resents his father, the two McClanes are forced to team up to protect Komarov against a flurry of Chagarin's well-armed men.
In films such as Max Payne and Behind Enemy Lines, Moore has demonstrated a workmanlike, B-movie flair for solid, unexceptional action sequences. Given the keys to the Die Hard franchise, the director invests more time in the stunts than the characters, which is perhaps just as well considering that the screenplay by Skip Woods tends to be rather clunky when it tries to get much mileage out of Jack's animosity for his old man. The father-son dynamic is meant to add a spark (and a little bit of pathos), but their back-and-forth bickering quickly proves tedious, making this perhaps the first Die Hard movie that's more interesting when John McClane isn't delivering wry one-liners. (Willis's lame running bit is that he's "on vacation" and doesn't want to get involved in the mayhem, which, of course, he does anyway — and with great relish.)
A Good Day To Die Hard's title is appropriate in two ways: The movie largely takes place over the course of one day, and there's an orgiastic giddiness to the violence and gunplay. With each subsequent Die Hard, the series moves further away from the original film's core strength — the claustrophobic battle between McClane and the bad guys in a single, locked-down location — and embraces an anything-goes attitude toward nonstop action spectacle. There's no denying that Moore and his effects team have put their backs into these vigorous sequences — cars fly through the air in reckless freeway chase sequences, and people die in comically grandiose ways — but the large-scale ruckus starts becoming deadening rather than invigorating. As a consequence, the film reduces McClane and his son to little more than lifeless pixels being moved around the screen.
While one could argue that Willis has allowed a little bit of laziness to seep into his portrayal of this long-suffering, smartass cop, he is still a reliable anchor and rooting interest amidst the explosions. Tellingly, however, he's almost a supporting character to Courtney's Jack, suggesting that the producers are positioning future instalments around the son. If that's the case, Courtney doesn't have the light touch or likable cockiness of Willis. He's a bit too lumbering, which is acceptable during the high-intensity fight scenes but is more of a liability when he needs to crack wise alongside Willis.
Also disappointing, A Good Day To Die Hard lacks for a quality villain. Where other Die Hard sequels have tried to create variations on the steely menace of Alan Rickman's Hans Gruber, this new film resorts to a drab heavy (played by Rasha Bukvic) who does all of Chagarin's dirty work. Without compelling villains or magnetic heroes, A Good Day To Die Hard mostly just rumbles and bellows airlessly. John McClane may not know how such crazy adventures keep happening to him, but the audience will be less willing to go along with him on them if they're not more enjoyable than this one.
Production companies: TSG Entertainment, Giant Pictures
Domestic distribution: Twentieth Century Fox, www.foxmovies.com
Producers: Alex Young, Wyck Godfrey
Executive producers: Tom Karnowski, Jason Keller, Skip Woods
Screenplay: Skip Woods
Cinematography: Jonathan Sela
Production design: Daniel T. Dorrance
Editor: Dan Zimmerman
Music: Marco Beltrami
Website: www.diehardmovie.com
Main Cast: Bruce Willis, Jai Courtney, Sebastian Koch, Yulia Snigir, Rasha Bukvic, Cole Hauser, Amaury Nolasco, Sergey Kolesnikov