Dir: Claire Denis. France. 2013. 100mins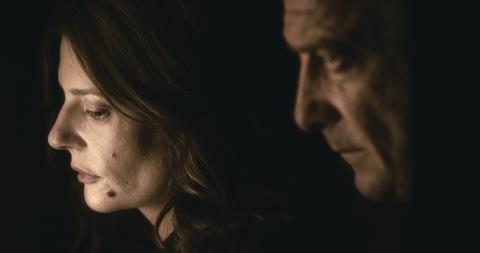 Bastards (Les Salauds), Clare Denis' first feature since 2009's White Material, sees the French director take a change in direction to forensically tease out a family's rotting secret, drawing the viewer into frame after beautiful frame. Dark and difficult, Bastards sees Denis brook no passive viewing.
Bastards is a secretive film, like the family it probes.
This brooding drama is an oblique, ultimately provocative film that will divide audiences and critics alike – some finding it elliptical where others see an under-written piece.
At turns perversely frustrating and completely engaging, Bastards' composed aesthetic, intense performances and electronic score from Tindersticks is surprisingly seductive, given its subject matter, although its payoff, deliberately with-held to the last frames, is gratuitously over-stated.
Bastards opens with a suicide (of businessman Jacques, we later learn) and cuts to a teenage girl stumbling naked down the street, still wearing high-heeled shoes. Jacques' wife Sandra (Bataille) blames the businessman Edouard Laporte (Subor) for the trouble which has afflicted her family. Her disturbed and abused daughter (Creton) lies in a psychiatric ward and her bother Marco (Lindon), captain of a tanker ship, has cut himself off from his family.
When Marco leaves his post to come back to Paris and help his family, he moves into an apartment in the same block as Laporte's mistress Raphaelle (Mastroianni) and their small son. But even as he discovers that Sandra has been keeping secrets from him, he also becomes embroiled in an intense affair with Raphaelle as Claire Denis sets up her unique take on a revenge drama.
Shooting for the first time on digital, Denis' blend of composed long shots and extreme close-ups invites the viewer into this intense drama, even as her storytelling – with writer Jean-Pol Fargeau – pushes them away. Shoes form a repeated visual motif – the family owns a shoe factory – for Denis and her regular cinematographer Agnes Varda.
Bastards is a secretive film, like the family it probes. Lindon gives a strong performance as Marco, out of his depth and unable to control his passion for Raphaelle. His character is fully-fleshed and credible, although Mastroianni and the film's other female characters have less to work with.
There was some controversy over the fact that Bastards was excluded from Competition at Cannes, but the intimate nature of Un Certain Regard suits this film best. The electro-soundtrack from Tindersticks, Denis' frequent collaborators, can lend the film a heady feel.
Production companies: Alcatraz Films, Wild Bunch, Arte France Cinema, Pandora Films Produktion
International sales: Wild Bunch, www.wildbunch.biz
Producers: Olivier Thery Lapiney, Laurence Clerc, Vincent Marval, Brahim Chiqua
Screenplay: Claire Denis and Jean-Pol Fargeau
Cinematography: Agnes Godard
Editor: Annette Dutertre
Prod designer: Michel Barthelemy
Music: Tindersticks
Main cast: Vincent Lindon, Chiara Mastroianni, Julie Bataille, Michel Subor, Lola Creton