Dir: Kim Longinotto. US. 2015. 98mins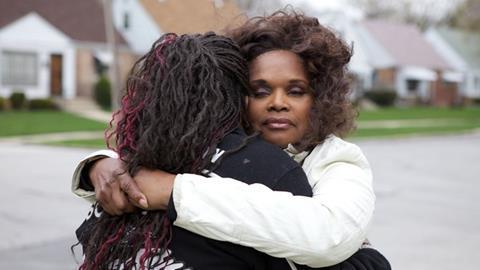 Kim Longinotto is at her fly-on-the-wall best with the impressive yet at the same time modestly staged Dreamcatcher, a film that delves into the grim realities of sex workers in Chicago. She allows her camera to tell the story, and as expected from such a talented filmmaker she constructs a film that veers between amusing and absorbing through to grim and depressing.
At heart Dreamcatcher is a simple film, but it is also a rigorous and compassionate one.
The core subject of her film is Brenda Myers-Powell, a former prostitute who with her friend Stephanie Daniels-Wilson, now runs the Dreamcatcher foundation, dedicated to helping sex workers and young women at risk. She is a force of nature character, evangelical about her mission to help, advise or simply act as a friend, both for the women on the streets and for those potentially at risk of heading into the sex trade.
Cable network Showtime picked up the US rights to Dreamcatcher prior to the film's premiere at Sundance, though it could well also appeal to international distributors and broadcasters, while theatrical releases may well also be likely. The film fits perfectly into Longinotto's filmography, which tends to focus on women fighting for their rights, though often she has shot in the developing world. But Brenda Myers-Powell is just that strong sort of character that would appeal to Longinotto.
The film opens in gloomy – if rather familiar style – as Meyers-Powell drives with Daniels-Wilson around the gloomy and cold Chicago streets looking to talk to prostitutes, offer them condoms and generally be there to talk to them. She listens to their stories of abuse, drug addiction, violence and descent into prostitution, and is also keen to go and talk to youngsters, many from troubled backgrounds, who may be in danger of following a path towards drug abuse and prostitution.
She even brings a former pimp named Homer King, who she knew back in her days as a prostitute, and who talks to a class of teenage girls about men, grooming and how he was molested as a young man. It is a shrewd technique and a sobering one, and all of the time she is there with a supportive smile and willingness to help anyone who might be in need.
At heart Dreamcatcher is a simple film, but it is also a rigorous and compassionate one. The stories are disturbing, and even harrowing at times, but Meyers-Powell's steely-eyed determination to make a difference shines through. It is at heart a film about compassion and empathy and about wanting to make a difference.
Production companies: Rise Films, Green Acres Films, Vixen Films, Showtime
International sales: Dogwoof Global, www.dogwoofglobal.com; US sales The Film Sales Company
Producers: Teddy Leifer, Lisa Stevens
Executive producers: Dan Cogan, Geralyn White Dreyfous, Regina K. Scully

Cinematography: Kim Longinotto

Editor: Ollie Huddleston

Music: Stuart Earl
Website: www.dreamcatcherfilm.com
With: Brenda Myers-Powell, Stephanie Daniels-Wilson
Director: Kim Longinotto
Producers: Lisa Stevens, Teddy Leifer