Dir: Guy Ritchie. US. 2015. 116mins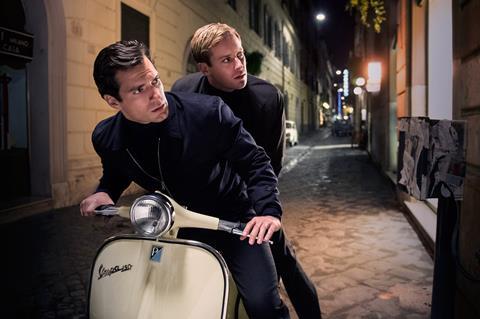 Style has always been the substance of director Guy Ritchie's films, and with The Man From U.N.C.L.E. he pushes his cheeky, sensation-driven aesthetic to new heights — which doesn't mean his movies are getting any less distancing or one-dimensional. A big-screen adaption of the 1960s American television series, the film is nothing but a sensuous rush of snappy period costumes, elegant beauties, dapper men, kinetic action and so-so quips, and because Ritchie seems even less concerned with story than usual, that blinkered approach very nearly works. But ultimately, rising stars Henry Cavill, Armie Hammer and Alicia Vikander are pretty pawns moved around the director's massive retro funhouse, Ritchie endlessly amused by his elaborately empty construction.
Everybody and everything in U.N.C.L.E is super-cool, which probably explains why the film doesn't have an ounce of warmth.
Opening in several territories by August 14, including the US and UK, this Warner Bros. release will hope to get a boost from Ritchie's name: his two Sherlock Holmes films grossed nearly $1.1 billion worldwide for the studio. Cavill's star-making role as Superman in the new Man Of Steel and Batman v Superman movies might attract some viewers, as will Hammer and Vikander thanks to The Lone Ranger and Ex Machina, respectively. But U.N.C.L.E.'s 1960s-cool sheen could also be a selling point for spy fans who have already sampled Rogue Nation and must wait for Spectre. With summer starting to wind down, U.N.C.L.E. may not be a massive hit — and audience awareness of the underlying property is low — so moderate global grosses could be expected.
Set in 1963, the film stars Cavill as Napoleon Solo, a crafty former thief-turned-CIA agent in East Germany on the hunt for Gaby Teller (Vikander), a comely auto mechanic whose estranged father, a former Nazi scientist, has gone into hiding, taking his nuclear weapons knowledge with him. A Russian agent named Illya Kuryakin (Hammer) is also pursuing Gaby, leading to a dangerous confrontation between the two men. But soon, Solo and Illya learn that they must work together with Gaby to help locate her dad, a mission that will lead them to a dangerous beauty (Elizabeth Debicki) who may be plotting to use Dr. Teller's nuclear technology.
The original television series, which had input from James Bond creator Ian Fleming, may not be well-remembered, but Ritchie mostly uses its concept of enemy spies teaming up as a template for an action-thriller-comedy in which the plot is secondary to the atmosphere. Drawing from music by Tom Zé, Ennio Morricone and Nina Simone, as well as a self-consciously groovy and dynamic score from Daniel Pemberton, the filmmaker mixes period flair with cutting-edge editing and effects tricks, producing what can sometimes be a winning mash-up of old and new.
Ritchie needs to pull out all the stops considering the fact that his screenplay — which he co-wrote with Lionel Wigram (two others are also credited for the story) — consistently dampens the fizzy fun. Solo and Illya are meant to be a study in wry contrasts — the American is a sophisticated, witty ladykiller, while the Russian is introspective, humourless and awkward around women — but their snide jabs quickly become perfunctory. This is the sort of movie where, invariably, life-or-death chase sequences are punctuated by glib one-liners as bullets fly in all directions.
Plus, the actors play their characters like glum spy-movie clichés rather than lovable archetypes. Cavill has a debonair grace — he embodies the suave spirit of a natural cat burglar — but he's essentially Bond without the killer rejoinders. As for Hammer, he's a good sport, flaunting a knowingly thick Russian accent, but it's an imitation more than a performance. Their elegant suits are more distinctive than they are.
Not unlike Michael Mann's Blackhat from earlier this year, U.N.C.L.E. is best appreciated as a dazzling array of beautiful images and evocative music that rush across the screen in hypnotic unison. Ever since 1998's Lock, Stock And Two Smoking Barrels, Ritchie has focused on propulsive filmmaking with a laddish (some might say juvenile) sense of humour. But with U.N.C.L.E., he creates some truly arresting sequences, many of them exciting. Some are even funny — such as Solo quietly enjoying a sandwich in the midst of a deadly chase scene happening in the distance. Jettisoning any concerns about character development or emotional resonance, Ritchie dabbles in a kinetic pure cinema that can be transfixing.
Unfortunately, Ritchie lacks Mann's sense of operatic grandeur — there's no soulfulness or melancholy in his visuals — and thus U.N.C.L.E. eventually succumbs to superb yet hollow craftsmanship, cinematographer John Mathieson and editor James Herbert making every frame gorgeous but also disposable.
Vikander, who drew raves for her role as the android in the sci-fi thriller Ex Machina, is mired playing Illya's fiancée in the undercover operation that powers U.N.C.L.E.'s plot. She has a few nice moments where her tart personality can emerge, but overall her tepid flirtations with Hammer amount to very little, the characters' tentative courtship constantly and conveniently interrupted.
Meanwhile, Debicki is all teasing seduction and tempting eyes as Victoria, a rich married woman whom Solo beds but certainly cannot trust. And indicative of the film's playful, laidback attitude, Hugh Grant has a small role as Waverly, an iconic figure from the original television show whom the actor plays with an offhand panache. Everybody and everything in U.N.C.L.E is super-cool, which probably explains why the film doesn't have an ounce of warmth.
Production companies: RatPac-Dune Entertainment, Ritchie/Wigram, Davis Entertainment
Worldwide distribution: Warner Bros., www.warnerbros.com
Producers: John Davis, Steve Clark-Hall, Lionel Wigram, Guy Ritchie
Executive producers: David Dobkin, Steven Mnuchin
Screenplay: Guy Ritchie & Lionel Wigram, story by Jeff Kleeman & David Campbell Wilson and Guy Ritchie & Lionel Wigram, based on the television series The Man From U.N.C.L.E.
Cinematography: John Mathieson
Production design: Oliver Scholl
Editor: James Herbert
Music: Daniel Pemberton
Website: www.manfromuncle.com
Main Cast: Henry Cavill, Armie Hammer, Alicia Vikander, Elizabeth Debicki, Jared Harris, Hugh Grant