Furious 8 hits $300m; Smurfs opens in second.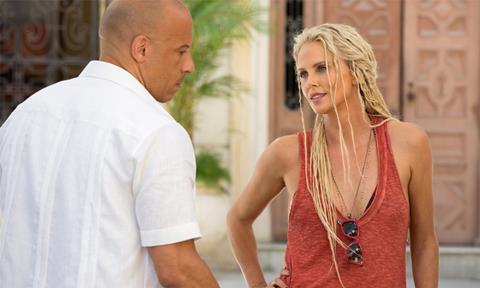 The Fate Of The Furious continued to be on the fast track to success in the week of Apr 17-23, adding $119.50m in its second week and bringing the 10-day total to $318.20m. It has surpassed not only Kung Fu Yoga to rank as this year's highest grossing film, but also 2014's Transformers: Age Of Extinction to become the fourth highest grossing film ever.
With its strong momentum, the eighth entry in Universal's action franchise is on course to overtake both Monster Hunt and Furious 7, the second and the third highest grossing film ever respectively. But there is still a rather long way to go before it could get close to the all-time champion The Mermaid.
While Furious 8 accounted for approximately 86% of the week's box office, the rest of the weekly charts was a combination of new releases and holdovers. Sony animation Smurfs: The Lost Village fared the best among them, taking in $11.06m from its three-day opening weekend, which was almost on par with its North American debut two weeks ago.
Produced by Alibaba Pictures, local romantic comedy Mr Pride vs Miss Prejudice opened in third with $9.90m after four days; ahead of the re-release of the newly-restored A Chinese Odyssey Part 2: Cinderella, which took $7.99m for $25.65m after 11 days.
Another three new Chinese films followed: local adventure drama The Blood Hound on $1.82m from its first three days; Korean director Park Yu-Hwan's Chinese-language suspense thriller The Mysterious Family, starring Ariel Lin and Blue Lan, on $1.61m from its first three days; and Hong Kong director Pang Ho Cheung's latest love comedy Love Off The Cuff on $0.81m based on previews only.
Kong: Skull Island added $0.76m for $167.87m after 31 days; local romance drama This Is Not What I Expected took $0.63m based on previews only; and Ghost In The Shell took $0.62m for $29.10m after 17 days.
Several high-profile Chinese films are lined up for the May 1 Labour Day holidays. This Is Not What I Expected is due out on Apr 27; followed by Battle Of Memories, Love Off The Cuff and Shock Wave on Apr 28.
Read more:
'My Happy Family', 'Newton' win top awards at HKIFF