For the film adaptation of popular costume drama Downton Abbey, the crew were able to broaden the scope of their location choices across the UK.
"If you are going to make a film of a television series, my goodness, you have got to raise the bar." Producer Liz Trubridge was determined that the movie spin-off from the internationally popular television series Downton Abbey would be both familiar enough to please existing fans but would warrant the transition from small screen to big. "I think the film is a big hug. It's very upbeat. It's warm, it's an emotional journey," she says, in terms of the story. The film's visual element is, however, on a different scale.
Having shot, to date, six seasons of the television series — a Carnival Films/Masterpiece production commissioned for ITV — many locations, including Hampshire's Highclere Castle for Downton Abbey and Oxfordshire's Bampton village for Downton village, were already in place, with the sets based at London's Ealing Studios. But returning to make a film opened up new opportunities. The production was "an even bigger circus, if that's possible," says Trubridge.
"On the TV show, we were really pushed for time. But [the film] allowed us to really milk it more. It was a great opportunity to really show off – we got a helicopter and got some fantastic aerial images, which is something that you often can't do in TV."
The scale of the production did present some challenges at the returning locations. Production manager Mark Ellis recalled: "With Highclere's popularity as a tourist venue, you have to figure out when you can get a consistent run of dates there. I think we had 14 or 15 days there for the film, whereas for the TV show we were going for 50 or 55 days, but we would go there, come out, go, come out. Obviously with a film you try to do it all in one hit."
New locations include Harewood House, a location which was specified in Julian Fellowes' screenplay. The imposing stately home near Leeds, West Yorkshire was built between 1759 and 1771 and was originally considered as a possible location for Downton Abbey itself in the early pre-production stages of the series. "It was just a little bit too grand for the story we were telling," Trubridge recalls. "But it was great to be able to set the story there.
"There was a shot in Harewood [where] I pinched myself when I looked up from the monitor," she continues. "We were just surrounded by Caravaggios and Titians. I thought, please, let's not have any accidents with those around!"
Studio space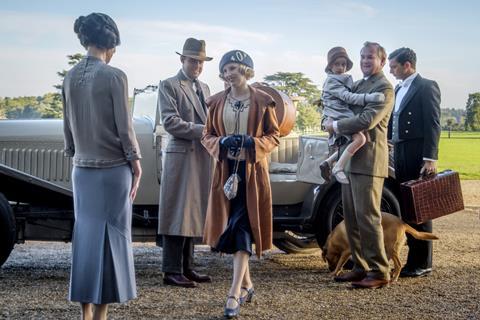 As well as the extensive location shoot, the production also needed studio space for their production base and sets. The British Film Commission was on hand to assist with the search and found space at Twickenham and Shepperton Studios.
The film, which tells of the commotion both above and below stairs caused by a royal visit, also required a ballroom location. Harewood House's ballroom, while impressive, didn't have the necessary scale. Instead, the production moved to what Trubridge describes as "one of the most stunning rooms I have ever seen" in Wentworth Woodhouse, near Rotherham in South Yorkshire.
While all the locations were carefully chosen for their historical backdrop, some have added benefits. Ellis has a particular fondness for the steam railway at Pickering station, North Yorkshire, which doubles ("with a lot of CGI") for King's Cross in London, and for the skilled volunteers who run it. "You are dealing with mainly enthusiasts who want their location to look the best it possibly can. So you get their energy. They are the experts; in some cases, they have been working on their trains for 50 years. Without them it wouldn't work. It's their pride and joy, on display on potentially one of the biggest films of the year."
Ellis was also impressed by the experience of filming on the streets of Bradford, also in Yorkshire. "I think fans of the show will be quite surprised to see it. We have gone from these beautiful Grade 1 listed houses and picturesque villages to rather grim streets. But the council up there was really good to deal with – really film friendly."
The Downton Abbey film perfectly illustrates the volume and diversity of the UK's filming locations, as Ellis confirms. "You are getting to see new locations on screen."


The UK. First for world-class film and television production. The British Film Commission provides free, tailored support, from development through to delivery.