With the UK producing a wealth of on-screen talent, industry experts discuss the essential role casting plays in any project.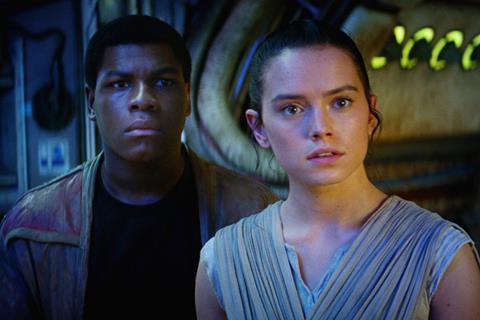 When Walt Disney paid an eye-watering $4bn in cash and stock in 2012 to buy Lucasfilm, the company behind Star Wars and Indiana Jones, the purchase signalled big plans for the Star Warsgalaxy — including a desire to bring fresh faces to the franchise. Much of the filming for the three new instalments was to be done at the UK's Pinewood Studios, and Lucasfilm president Kathleen Kennedy said the decision to shoot in the UK was partly to utilise the country's "incredible talent".
Kennedy, whose connection to the UK runs through the likes of Raiders Of The Lost Ark, Empire Of The Sun and War Horse, was talking about both the UK's world-class crews and also the depth and quality of the acting pool.
She hired Nina Gold, one of the UK's leading casting directors, to help populate the world of Star Wars: The Force Awakens. "It was such an amazing opportunity but one that came with considerable pressure," Gold recalls.
After weeks of clandestine Jedi cloak and dagger meetings, Gold picked Daisy Ridley to try out for the part of Rey and John Boyega to take on auditions for the role of Finn. Ridley was then an unknown entity to everyone, and the actress was working in a bar when her agent first sent her to Gold. The casting director says Ridley seemed to "understand Rey" from the first moment.
Boyega had caught Gold's eye after his lead performance in Joe Cornish's Attack The Block in 2011 — he was also one of Screen International's UK Stars of Tomorrow that same year — so the casting director went to see him in a play at the Tricycle Theatre in north London.
"Casting [Ridley and Boyega] as the future faces of Star Wars was a big moment for British casting, and big for me too," says Gold. Indeed, the success of The Force Awakens not only made bona fide global stars out of Ridley and Boyega, but also highlighted the UK's reputation as a territory with it all — studios, crews, tax relief and, crucially, world-class acting talent.
Indeed, perhaps the strongest indication of the explosion of talent across the UK is the opening in autumn 2017 of a London branch of the Casting Society of America, which has chosen the city to house its European hub.
Wealth of talent
International film and TV productions shooting in the UK now know they can employ UK actors in key roles across the spectrum. Not only does this give them access to world-class creative talent, it also helps a project meet the criteria to qualify for the UK's film and high-end TV tax reliefs. The number of international films and high-end TV productions shooting in the UK is at an all-time high thanks to these lucrative tax reliefs.
Over the past 18 months, the UK has hosted myriad high-profile film productions starring world-renowned local talent, including: Net­flix's The King, starring Robert Pattinson; Walt Disney's Maleficent 2 with Chiwetel Ejiofor; Universal's The Voyage Of Doctor Dolittle with Michael Sheen, Tom Holland, Ralph Fiennes and Emma Thompson; and Fox Searchlight and Chernin Entertainment's Tolkien, in which Nicholas Hoult co-stars. New talent is also making an impact on the international stage, including Alex Lawther and Jessica Barden, stars of Channel 4/Netflix show The End Of The F***ing World, and actor/writer Phoebe Waller-Bridge, who has most recently appeared in Solo: A Star Wars Story, and will be returning in series two of Fleabag(Amazon), for which she is also the writer/creator.
In high-end TV, new series of Outlander (Starz), The Crown (Netflix) and Game Of Thrones (HBO) are all shooting or in pre-production. Bad Wolf, the Cardiff-based TV production company run by former BBC executives Jane Tranter and Julie Gardner, is now in production on a new version of His Dark Materials, starring an emerging generation of UK talent.
"It is constantly busy here, there doesn't seem to be a lull in the business these days," says Gold, who, when UK In Focus speaks to her, is in the process of casting Star Wars: Episode IX ahead of shooting from late summer 2018. "We talk in terms of quarters, and each quarter is full." This, she says, has made her job even more interesting. "Those [high production value] shows provide me with more leeway when it comes to casting, and that even extends to the main roles. In the past five to ten years there has been so much good stuff being made here in the UK that it has created possibilities and opportunities."
Gold is also the tastemaker who introduced UK actors including Maisie Williams and Emilia Clarke to HBO for Game Of Thrones, and who put Claire Foy in front of Netflix for The Crown. One of her most recent projects is the upcoming TV mini-series Chernobyl for HBO and Sky, in which she helped to cast Emily Watson and Jared Harris.
"British actors are highly regarded and very good at what they do," Gold says. "Certainly, the training and the work they can bring to auditions is very highly regarded. There is so much being made that everyone is on the lookout for new ideas and new people all the time."
Stars of tomorrow
The drive to find future stars out of the UK is a constant quest, and is built on a firmly established international reputation in TV, film and theatre. Casting director Jo Hawes is one of the biggest names working in UK theatre as a children's casting director, and has populated child roles in stage shows including Oliver!, Mary Poppins and Les Misérables among others.
Her first job in film casting recently saw her discover two young Elton Johns for Paramount Pictures' biopic of the UK musician, Rocketman, to be directed by Dexter Fletcher. The film will cover the singer's life from his time as a child prodigy at the Royal Academy of Music through his transformation into a global superstar.
"When I am approached about any project, whatever it is, I send out a breakdown to all the agents on my database," says Hawes. "I also put it on my website, and social media is essential these days." Hawes is also in constant contact with performing arts schools, dance academies and agencies big and small. For Rocketman, Fletcher himself tweeted about his search for young Eltons, urging all to contact Hawes for audition details.
Independent film producer Kevin Loader describes the UK's depth of talent as "extraordinary" and "showing no signs of drying up". Loader, who is producing Armando Iannucci's The Personal History Of David Copperfield, starring Ben Whishaw, Gwendoline Christie and Dev Patel among others, notes that a "flourishing theatre culture" plays an important part in creating the deep British talent pool.
"If it weren't for the RSC, the National, the Royal Exchange, the Traverse and great subsidised theatres, it wouldn't be the same," says Loader. He also remarks that the old nonsense about television stars not being capable of being film stars is no longer true, with actors moving seamlessly between film, long-form drama and all points in between.
The UK also lays claim to a rich and internationally impressive roster of acting schools producing stars of stage and screen. Benedict Cumberbatch, for example, attended London Academy of Music & Dramatic Art, whose alumni also include Sam Claflin, Ruth Wilson and Dominic Cooper. Across town is the Royal Academy of Dramatic Art, presided over by Kenneth Branagh, whose former pupils include Gemma Jones, Andrew Lincoln, Clive Owen and Sally Hawkins.
There is also the Royal Central School of Speech & Drama, part of the University of London, where Riz Ahmed, Andrew Garfield, Cush Jumbo and Judi Dench learned their craft. And Guildhall School of Music & Drama is the UK's biggest, with Daniel Craig, Jude Law, Orlando Bloom, Ewan McGregor, Lily James and Damian Lewis all emerging into the spotlight from there.
"There is a wealth of British talent coming out of drama schools and theatre armed with a quality-assured sticker," says producer Andrew Macdonald who, in the past few years, has produced films chock-full of UK talent including 28 Days Later, Never Let Me Go, Far From The Madding Crowd and T2 Trainspotting. "The UK reputation for high-quality acting training gives producers peace of mind when hiring."


The UK. First for world-class film and television production. The British Film Commission provides free, tailored support, from development through to delivery.