During its decade in Northern Ireland, Game Of Thrones has had a monumental impact on high-end TV production across the UK. As the series comes to an end, those involved on both sides of the camera look back on its remarkable journey. By Andy Fry.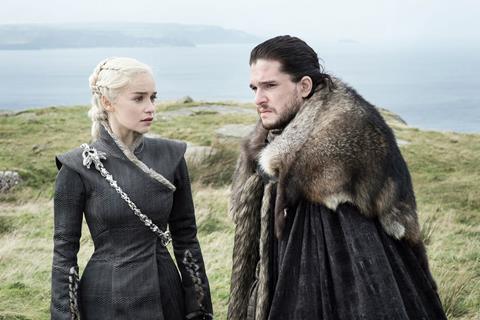 When HBO came to Northern Ireland in 2009 to shoot a pilot for its adaptation of George RR Martin's fantasy novel A Games Of Thrones, no one could have imagined the impact the show would have on the high-end TV business. In terms of creative ambition, fan engagement and production craft, its eight seasons have epitomised the transformation of small-screen entertainment over the last decade.
As Games Of Thrones' European HQ, Northern Ireland has played a key role in the show's story. It is conservatively estimated that nearly $270m (£206m) has been spent on production goods and services in the province between seasons one and eight. Crew numbers are reckoned to run to four figures, with more working as extras.
Within the country, the Games Of Thrones influence is being felt in tourism, trade and in the creative infrastructure it has left behind in Belfast. But it has also played a part in the success the UK as a whole has had in securing high-end TV work. It is a shining example for global producers who have since entrusted their own high-end projects to other regional and national hubs across the UK.
In fact, the British Film Commission (BFC), tasked by the UK government to promote the HETV tax relief, enlisted HBO to assist with the design and launch of the new incentive.
As Game Of Thrones readies its eighth and final season, UK In Focus looks at the show's remarkable production history and enduring legacy with those who made it happen.
The early years
Richard Williams (CEO, Northern Ireland Screen): We helped with the funding of the pilot and that carried some weight. We had the Paint Hall at Titanic Studios in Belfast and the habitat of the show suggested Northern Europe. We suggested they work with Mark Huffam [series one producer], whose credentials were strong. You also have to remember, back then, Game Of Thrones wasn't the epic we know now. Overall, I'd say we did a real hearts-and-minds job and put our money where our mouth was.
Janet Graham Borba (SVP, original production at HBO): We felt that in Northern Ireland we would be able to support the show's growth over time, and that has proven true. In Belfast, there was the perfect combination of seasoned local crew and actors with proximity to nearby London-based artists. Northern Ireland Screen introduced us to the Paint Hall, which was a compelling choice in terms of height, given the scale of the sets David Benioff and Dan Weiss [the showrunners] were imagining. Finally, the landscapes of Westeros felt 'Celtic' on the page, and the gorgeous vistas of Northern Ireland fulfilled that production wish.
RW: Halfway through the production of the first season, we could tell HBO was reinventing a genre and pioneering production techniques. We didn't know it would become part of the popular lexicon, but it was clear the show was way ahead of its time.
Bernadette Caulfield (producer, seasons two to seven): In advance of my arrival on season two, I was able to talk with colleagues who had worked in Northern Ireland previously, and also to the team who had worked on season one. All assured me I couldn't be in better hands, and that ended up being the case.
Deborah Riley (production designer, seasons four to eight): I would be lying if I did not admit I was nervous [about joining the show]. The thing that scared me the most about the continuity was understanding the different storylines and being able to use the various visual cues for each of the kingdoms correctly. As it turned out, an old friend of mine, Paul Ghirardani, joined me on the show as the supervising art director, and the producers also took good care of me in the early days to be sure that I was always referencing the right material.
As for the size and the scale of the job, nothing could have prepared me. We are trying to achieve film finishes on a TV schedule, and we are racing against the clock from the minute we start.Game Of Thrones also works with multiple directors, at the same time as multiple units. But it is probably the most exciting project around for a production designer, as it is a fantasy comprised of many worlds with enough money to build and finish it well. Myself and the art department have been able to try all sorts of ideas and become better over the years because of practice.
Making a home in Northern Ireland
JGB: The show has been blessed by NI Screen's advocacy. When Game Of Thrones outgrew the Paint Hall, NI Screen facilitated the building of new stages that we could occupy and which allowed us to build new sets and do green-screen work there. And when production incentives became a more important part of the business, they partnered in advocating for the UK high-end TV tax credit.
RW: We've never been complacent at any stage. The most difficult time was around the first and second seasons before the UK tax credit, when it felt like there was a real possibility the show might gradually move elsewhere. In that period, we responded by doing our best to facilitate the process in any way we could.
Casey Bloys (president, HBO Programming): There are always challenges to filming so far away from our home base, but under the amazing leadership of Weiss and Benioff as well as the vast experience of the brilliant production team, we felt in great hands. HBO executives are all used to early morning catch-up calls and racked up their share of miles visiting the set. But everyone works so hard, and has such pride in their work, we can allow them the freedom to do what they do best.
BC: I'm usually in Belfast nine months out of a year and, for this final season, I will have been here for more than a year. I love working here. Year after year, the cast and crews' passion grew in leaps and bounds.
Memorable moments
CB: The big battle scenes stand out. Hardhome [season five] filmed at Magheramorne Quarry and Battle Of The Bastards [season six] filmed in Saintfield. But I've been equally impressed with the smaller, more intimate scenes filmed on the stages at Titanic Studios.
JGB: It's easy to point to set pieces like the Battle Of The Bastards or season seven's frozen lake sequence as the hardest to pull off, because those were long outdoor shoots with visual effects, special effects, horses, stunts, etc. But the Red Wedding in season three also felt like a huge emotional accomplishment for the cast and the crew. And the craft of the episodes that involved the Ice Wall — both on location at Magheramorne and on stage — is downright stunning.
BC: So many sequences required monumental efforts to pull off; whether it was tethering the cast so they wouldn't be blown off a cliff and into the North Sea or laying down miles of steel track so trucks could survive. But a favourite accomplishment has been to make the audience feel the authenticity with locations. As an example, a quarry in Belfast called Wolf Hill doubled as our ice lake north of the wall in season seven. That set was one of our more amazing feats. As always, it was a group effort of production, construction, the art department and the special effects and VFX teams that turned a rocky quarry into an Icelandic frozen lake.
DR: The most vivid memory I have is of being taken to Castle Black for the first time in Magheramorne Quarry, about a 40-minute drive from Titanic Studios. It is a 360-degree set with real timbers running up the cliff wall as the supports for the working lift. The quarry wall is painted white to simulate the ice wall and the set has a working forge. There is not a straight line in the place. Everything is wonky, and completely believable as the last post of the Night's Watch.
Conleth Hill (Northern Irish actor, Lord Varys): In 2017 we shot a scene with Carice van Houten, between Melisandre and Varys. It was set on the cliff tops of Dragonstone. Our location was on top of Fair Head (Benmore), less than five miles from my home. We had played there as children and now my Emmy award-winning sound man brother, Ronan, and myself were playing there again for HBO! Brilliant and surreal.
BC: There were many occasions when a crew member born and raised in Northern Ireland would go to a location and say, 'I've never been here before.' That made it clear to us we'd done our homework. To work in so many remote and beautiful locations in almost all of the six counties was a true gift.
RW: If a government agency had devised the production footprint, they couldn't have improved on the spread. From Strangford Lough to the north coast to the Marble Arch Caves in County Fermanagh, the show went every­where. And you wouldn't believe the number of people who worked as extras… kids, students, pensioners. People would take time off work to do it, out of intellectual curiosity or for bragging rights.
CH: Most of my interior scenes were shot in the Paint Hall in Belfast. The first season they were literally old paint halls, but were soon refurbished and added to. The variety of locations and their accessibility have been very impressive.
DR: Whether we have been turning a farmer's field into a siege camp, filming on the stunning cliffs of the north coast or standing in a cold and blustery abandoned quarry, Northern Ireland is in the DNA of Game Of Thrones.
The final chapter
BC: In season eight, the bar has been raised higher than ever and we all feel a responsibility to our audience. And this season we have more than doubled the amount of VFX shots versus last season. There are more than 3,000 to complete this year.
DR: The show has become more ambitious every season. This has never been more true than in season eight, but the work of seasons one to seven prepared us for what was to come. To have to build the Dragonstone audience chamber at the same time as Euron's ship Silence was pushing us right to the edge of what we were capable of in the time we had. The amount of builds we have had to do has increased each season and the size of the art department has always had to increase to cope with the demand.
The biggest technological leap has been introducing VR into the art department in season eight. I am sure all art departments considering big builds in the future will adopt the technology. It helped us understand what we were building, and for everyone associated with it to understand as well. It also allowed the cinematographers to hold the built set and the virtual set in one frame, which was revolutionary and the first time we've been able to do that so early in pre-production.
Legacy and impact
CB: There are so many ways Northern Ireland has proven to be a great partner for us over the past 10 years of filming Game Of Thrones, so we certainly hope to find more projects that would make sense to film in the region and to continue our collaborative relationship with Northern Ireland Screen. We're in production on several international-based productions, including a few UK co-productions. We've learned a great deal about managing productions overseas. It goes back to hiring a team you believe in and helping them execute their vision. And lots more of those early catch-up phone calls!
DR: As Game Of Thrones comes to an end, it is great to know the skills Belfast locals learned can be applied to any production that comes along, or that they can take their talents abroad. [Art director] Paul Ghirardani, for example, takes great pride in teaching the up-and-coming generation.
RW: The value [of the show] is inestimable. Game Of Thrones was a worked example that underpinned the expansion of high-end TV drama in the UK. It had a direct influence on the decision to introduce the TV tax credit. Titanic Studios was built on the back of Game Of Thronesand Belfast Harbour Studios [now home to Krypton] was built on the evidence of the show.
But its value goes way beyond the production industry and tourism. The Northern Ireland brand has benefited, and I think people across all sectors have been empowered by the show's immense success.
JGB: We can't wait to find the right project to bring us back to Belfast. The community support and pride has been extraordinary, and the economic efficiencies, production infrastructure and the beauty of locations are all first class.