With the UK's film and high-end TV production landscape expanding, the British Film Commission's Stage Space Support and Development strategy is crucial to making more space.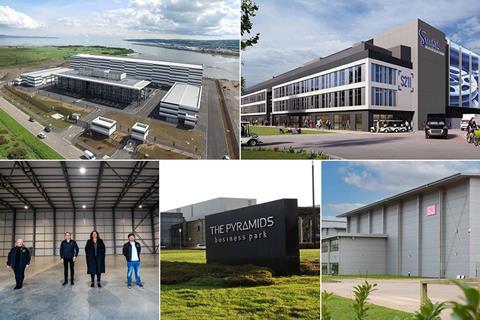 Despite the myriad challenges of Brexit and the global Covid-19 pandemic, the UK is currently enjoying record-breaking levels of film and high-end TV production. According to British Film Institute (BFI) statistics published in February 2022, £5.6bn was spent on film and high-end TV production in the UK in 2021; the highest figure to date. The BFI's Screen Business Report, published in December 2021, noted that between 2017 and 2019 the industry created an astonishing 219,000 jobs. And the trajectory is heading further skyward. A skills forecast published by ScreenSkills and supported by BFI in June 2022 found that film and high-end TV production is likely to hit between £7.07bn and £7.66bn annually by 2025, meaning that between 15,310 and 20,770 additional crew will be needed to meet demand.
With production activity on the increase, the British Film Commission (BFC) is working hard to help the industry to meet these rising demands including partnering with The Production Guild of Great Britain and supporting other skills training providers to ensure the UK has a growing pool of diverse and experienced crew.
Alongside talent, space is also at a premium and central to the BFC's remit is the Stage Space Support and Development (SSSD) strategy, which assists in stimulating the creation of additional stage space capacity across the UK: whether that is the building of entirely new studios, or the expansion and modernisation of existing facilities.
With a background in managing studios including Elstree, Jeremy Pelzer, the BFC's senior stage space strategy advisor, knows only too well that increasing the UK's studio capacity is a mammoth undertaking. But it will also bring major benefits. "Prior to the start of the SSSD, the BFC conducted consultation work with the major US studios and asked them if space and crew were no issue, how much content they would wish to produce in the UK. Pretty much unanimously, the answer was that they would double it, and we're on a very healthy trajectory to meet the ambition of doubling the UK's stage space by 2025."
While there is, as Pelzer describes, "a healthy pipeline of new space coming online", it's not just about creating new facilities with abandon. Sustainability is at the heart of the BFC's SSSD approach, with Pelzer and the BFC team offering support and guidance to investors and developers to ensure that spaces are being created in areas which allow easy access to crew and infrastructure, and that they will benefit local communities. Taking this long view will, he says, ensure the new spaces enjoy continual use.
And sustainability is not just about maintaining production levels, but also taking an environmentally responsible approach to studio development. The BFC has been undertaking key research into such things as greener building fabrics and renewable energy options.
"Many of the studios and their clients, the production companies, are on journeys to net zero," says Pelzer. "We're taking a very open view on different options to support this. We are seeking to provide developers with a foundation of information, upon which they can determine their own strategies. It's about providing options that avoid having to start from scratch every time."
With the BFC sitting at the hub of a UK-wide industry network that takes in all the nations and regions, it's well placed to share information and knowledge to developers and studios across the country. Says Pelzer: "In order to sustain growth will be sharing as much knowledge as we can, subject to the commercial sensitivities of individual clients, so that national and regional agencies are best placed to support further stage space growth or studio development in their own areas."
Case Study: Pyramid Studios, Scotland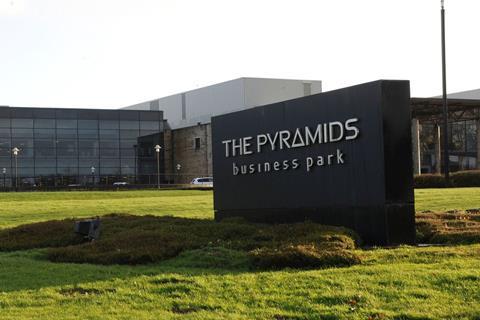 Earlier this year, planning permission was granted in principle by West Lothian Council for a new studio at the Pyramid Business Park in Bathgate, located 20 miles east of Edinburgh and just 12 miles from the city's airport. This comes after the location, which currently houses two stages where projects like Danny Boyle'sTrainspotting sequel T2 and Amazon's hit fantasy show Good Omens have filmed, was acquired in 2021 by real estate firm London & Regional (L&R).
"We believe that Scotland is a fantastic location for film and TV," says James Troughton, head of central London commercial acquisition at L&R. "The crew talent matches that in London and the south, and there is a competitive price point for studios to create productions."
The site will be renamed Pyramid Studios, and there are plans to significantly expand and develop its production facilities. "We're looking at getting the detailed planning consent to get an additional 120,000 sq. ft.," says Troughton, who points out that the studio will not just benefit the industry. "The site will offer to the local community many new jobs with the constant productions that will be coming to use the studios."
And, says Troughton, the BFC has been central to the project from its earliest stages. "They have written letters of recommendation to the local council, given us ideas and facilitated introductions to people who could help. They have offered endless support."
Case Study: The Depot, Liverpool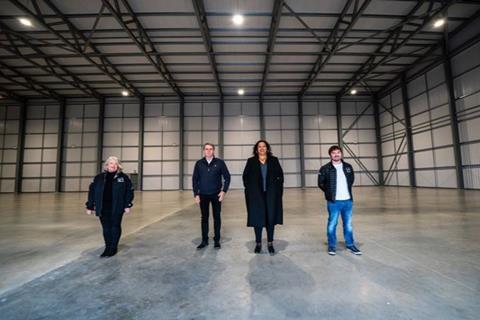 Having opened for business in October 2021, The Depot offers two 20,000 sq. ft studios, ancillary space and the capacity to build a third unit of a similar size — and all in the centre of Liverpool. Owned by Liverpool City Council and operated by Liverpool Film Office, the site is the first phase of a larger scheme planned at the adjacent Littlewood site, which will eventually comprise 85,000 sq. ft. studio and ancillary space by 2025.
"Liverpool has a successful history of supporting indigenous production while attracting film & TV production from outside the region," notes Liverpool Film Office manager Lynn Saunders. "The Depot has been designed as a strategic initiative to drive the growth of the film and TV sector in Liverpool, and develop talent pipelines. It will also significantly increase the amount of time productions will spend filming in the city. This in turn supports local economic impact and inward investment through the employment of local suppliers, crew and talent."
The BFC has, says Saunders, been "integral" in supporting the development, providing advice, support and guidance from the very earliest stages. "Liverpool City Council and its stakeholders had no previous knowledge or experience of developing a film and TV studio, therefore the support of the BFC has been key, particularly in relation to design and construction. Once built, they have also actively supported the studio's promotion and marketing, and continue to be a source of support and encouragement as the projects develop and expand.
Saunders notes that the Depot has already hosted six commercials, one feature and one HETV project, creating hundreds of jobs, eight trainee and new entrant opportunities and generating £4.7m inward investment into the local economy. The studio is publicly owned and, says Saunders, "the council also recognises social value and the importance of developing a diverse and inclusive workforce."
Case Study: Sunset Waltham Cross Studios, Hertfordshire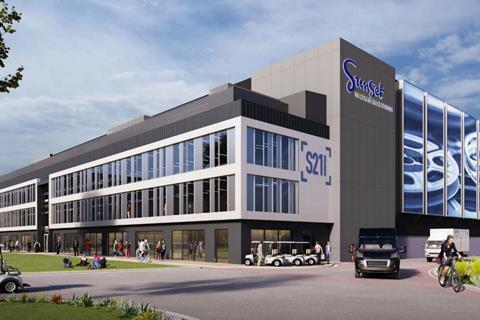 A joint venture between Hudson Pacific Properties and Blackstone, this 91-acre site in Hertfordshire is being developed into a 1.2m square foot facility to include 21 sound stages, offices, workshops and production support, with the first productions expected to start filming in 2025. "Sunset Waltham Cross Studios was specifically attractive because it is a great piece of land that is large enough to develop one of the best studio production facilities in the world," says Erik Thoreen, senior vice president UK for Hudson Pacific Properties, who notes that the studio is just 17 miles north of London and easily accessible by road and rail.
At all stages of development, the BFC has, says Thoreen, "been a very critical support system. The BFC helped make important introductions to key people within the studios space, as well as guide us through new studio innovations like sustainability and jobs and skills training."
Both of those things are are the heart of the Sunset Studios development, which has been working closely with the local community and Broxbourne council. "The studio will have a tremendous benefit to the local community," notes Thoreen, "and we expect it will create over 4,800 jobs and contribute £300m annually to the local economy. We are taking a very active role to help promote jobs and skills training, as well as creating an on-site jobs centre to support productions filming at our studios."
"Sustainability is also a huge priority," continues Thoreen. "Sunset Waltham Cross will target a BREEAM Excellent rating and LEED Gold certification which would put the development in the top 10 percent of buildings in the UK in terms of its sustainability performance, with energy efficiency and biodiversity central to its design and development. Once operations, extensive sustainability initiatives will be implements to lower the carbon impact of every production filmed at the studio."
Case Study: Dragon Studios, Wales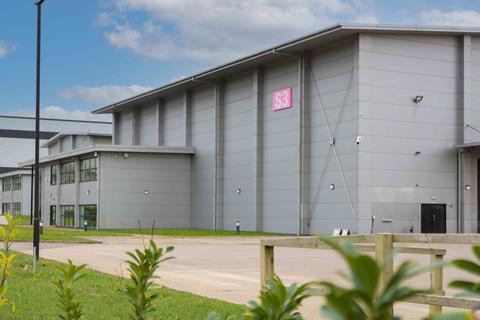 Situated on the outskirts of Bridgend, Wales, just 22 minutes from Cardiff and close to the natural landscapes for which the country is famous, Dragon Studios offers a plethora of filming space encompassing five stages, 100,000 sq. ft of support space, two private woodlands and a lake across a 100 acre site. The former opencast mine was first developed in 2007 by the consortium Dragon International Studios, chaired by Richard Attenborough, and was acquired by Shadow Holdings in 2018, since when it has undergone extensive development.
Now, in response to the huge popularity of Wales as a production hub, an extensive expansion is expected at Dragon Studios after Shadow Holdings last year secured £9m worth of funding from Bergen Finance.
"The BFC has been a huge support to Dragon Studios Wales," says Tom Guy, Dragon Studios' director of operations. "Through their support, we were able to engage specialist advisors to work with us on researching the many potential ways we can include both sustainable and renewable technologies into building the stages of the future."
It's expected that the development will be able to add many more productions to a roster that already includes the high-profile likes of Willow (Disney+), The Bastard Executioner (Fox) and The King (Netflix).
"When meeting with local authority planning teams, having the support and the experience of the BFC behind us has been invaluable," continues Guy. "It shows we are serious about our intentions, and proves that there is a genuine need for new stages to be built in Wales. Having the BFC in our corner provides us with the support we need to get things done."
Case Study: Belfast Harbour Studios, Northern Ireland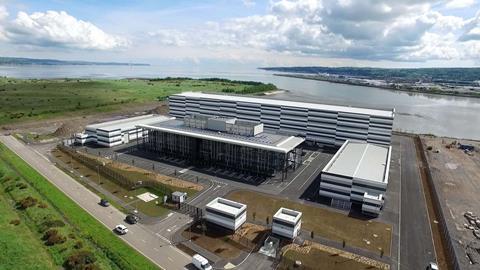 With production booming in Northern Ireland, the country is expanding and developing their studio space in line with demand.
Belfast Harbour Studios, for example, has had planning permission granted for a £45m expansion that will quadruple its size and include purpose-built studios offering around 180,000 sq. ft. of space, along with various ancillary buildings. It's expected that when the project is completed, it will be the largest film studio complex in the UK outside the South East of England. Productions that have already filmed there include Netflix's The School For Good And Evil and Universal Pictures' The Northman.
Elsewhere, facilities such as Belfast's Titanic Studios, home to HBO's Game Of Thrones, and Loop Studios have expanded or are being developed, providing a further boost for Northern Ireland's film and TV production industry. And Belfast Harbour Commission has partnered with Ulster University to develop Studio Ulster, a large scale Virtual Production studio complex, also situated at Giant's Park, Belfast, supported by Northern Ireland Screen and recipient of a £25.2m Belfast Region City Deal investment.
"The BFC's studio development team has been a great resource for the sound stage and build space owners in Northern Ireland," says Andrew Reid, head of production at Northern Ireland Screen. "It's immensely helpful to be able to point them in the direction of people with a wealth of knowledge and experience in studio development. They can sense check their plans, find out about more sustainable materials and practices and get advice on what adds value to their proposition. Jeremy and his colleagues have been a great addition to the BFC team."