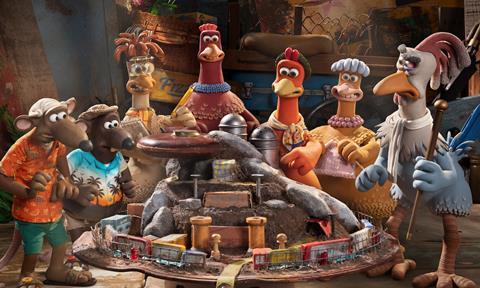 It is little wonder that so many are currently squawking in delight at the strength of UK animation. South-west England—based animation powerhouse Aardman's long-awaited sequel Chicken Run: The Dawn Of The Nugget has recently taken wing at the BFI London Film Festival prior to landing on Netflix just before Christmas. And there are several other UK companies now capable of making their own animated features — and the sector's UK talent and facilities are increasingly in demand for Hollywood studios and streamers' movies and series.
"The new film still has all the beautiful physicality of stop motion and was produced in the same Bristol studio as the first film," says Sean Clarke, managing director, Aardman Studios, who explains how the sequel incorporates elements of the original while also breaking new ground. "We have also integrated some new modern technologies and advancements to enhance the visual quality and storytelling. This combination allows us to stay true to the original film whilst taking advantage of modern tools available today."
Legendary Aardman figures Nick Park and company founders Peter Lord and David Sproxton are all still involved in the Chicken Run sequel, in producer roles. Sam Fell, whose earlier credits included Flushed Away (2006) and ParaNorman (2012), is directing, while a new generation of animators have been hard at work on the film. Clarke highlights the four key brand attributes — "comedy, craft, story, and character" — that feed into every new Aardman production.
While Aardman makes films that are enjoyed all over the world, the company has made significant investments in its home city, Bristol, employing hundreds of local people and ensuring its own animation academy, now 23 years old, keeps talent flowing through the animation pipelines. Additionally, the company employs trainees on its features; Dawn Of The Nugget had 15 working across various roles.
"There are over 50 animation degree courses in the UK as well as countless animation continuing education classes," notes Kattie Kotok, British Film Commission's EVP – US production, of how the skills base is growing to meet demand. She points out that the UK's proximity to Europe makes it "easy to draw [on] additional talent" should it be needed, and notes that lead UK agency Animation UK is a key resource to help would-be animators find training schemes and explore a variety of opportunities in the sector.
Kotok also points to a soon-to-be-launched dedicated area on the BFC's website, which will promote the UK's animation offering around services, facilities and an enhanced animation credit (see below). "The BFC is aiming to provide a touchpoint for new clients, as well as current clients who have worked with us across live action for many years, to consider bringing their animated projects to the UK. As we have always one, we will continue to provide bespoke guidance and support where needed."
Film tax reliefs have been acknowledged by production insiders as a "key component" in ensuring the new Chicken Run feature stayed in the UK. Now, tweaks to the UK government film and TV tax legislation are about to unlock yet more soft money support for the animation sector. Under the new Audio-Visual Expenditure Credit (AVEC), replacing the previous UK film tax relief, the headline rate for TV and feature animations will be 39% — equivalent to an effective credit rate of 29.25%; 5% higher than the rate for film and high end TV.
Creative partnerships
It is little surprise, then, that an increasing number of US studios and streamers are exploring opportunities to work with British animation partners. "You're seeing an expansion of what can be made," enthuses Richard Scott, CEO and co-founder of Glasgow-based Axis Studios (currently working on new animated series Gods And Monsters Chapter One: The Death Of Victor Frankenstein). "It is certainly the most exciting time in film and television [for animation] that I can remember."
Scott hails the "creative ambition" of outfits like Jellyfish, Blue Zoo and Locksmith as well as of Aardman and his own company. "All of these studios have been around for quite a long time. I think that is part of it — it's the maturity of the industry, having people who have got that experience running studios and growing the companies."
Many animation studios are involved in other parts of the business too. Jellyfish and Axis provide high quality VFX for BFC's inward investment feature and HETCV clients. Blue Zoo is renowned for its commercial work. Dynamic companies like Nexus Studios (which made House for Netflix) and Blinkink, who cut their teeth in the commercial world, are now moving into the film and TV space.
"Having studios that are more adaptable allows for sustainability. That's how you generate the excitement and momentum, being able to be around for long enough," Scott observes.
"Due to the skills and attractiveness of the UK animation offer, awareness is growing and more US studios/streamers are looking to grow and service their pipeline of animated content," says the BFC's Kotok. "AS UK facilities continue to bolster their animation offer, they will have more flexibility to meet clients at the budget levels and creative needs there require. We will be proactively networking and promoting the UK in this space, in collaboration with Animation UK, other UK industry bodies and UK government departments for the benefit of all."
Phil Dobree, founder of Jellyfish, says there is a long list of reasons why big US clients are looking to work with UK animation outfits; one is the "high end talent pool".
"There was already a very strong existing talent base in VFX which constitutes a lot of the back end expertise on a feature animation pipeline/team, and this has now been supplemented with a strong and growing front end team (storyboard, creative development, asset build, layout and animation)," Dobree explains of why the UK is now capable of taking on so much top level work.
Aardman's Clarke agrees with this sentiment. "I believe the UK has some of the best talent in the world including highly skilled animators, writers, directors, and technical professionals," he asserts.
Importantly, the pandemic helped UK technicians adapt to remote working. UK animators are generally seen as excellent collaborators, capable of joining forces with multiple partners on projects in different time zones. And UK companies are benefiting from the expertise of the experienced US companies with whom they are now collaborating. Jellyfish started its first production with US giant Dreamworks on How To Train Your Dragon: Homecoming, just before the pandemic began.
"Working with DreamWorks Feature Animation was a fantastic learning experience – the disciplines, deep knowledge of producing feature animation over 25 plus years was passed on and shared with us in a very deep way," Dobree says of the transatlantic dividend.
"There are only a small handful of companies worldwide able to make theatrical feature animation, it's a rare ability outside the well known tied studios of Disney, Pixar, DreamWorks and Sony. To be able to offer this with the tax incentive with a competitive price is critical to our future growth," continues Dobree. And the elements are there for the sector to continue to prosper for the foreseeable future.