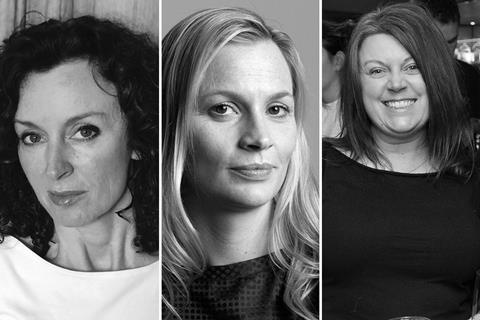 The UK's production companies have become synonymous with high-end big-and small-screen content that's winning plaudits and audiences across the globe. Here are 10 female-helmed outfits making a big impact.
Bad Wolf
Location: Cardiff, Wales and Los Angeles, US
Headed by Jane Tranter and Julie Gardner, Bad Wolf is making a mark on the UK and US TV markets from its base in South Wales. Having originally brought Russell T Davies' rebooted Doctor Who to Cardiff, Tranter and Gardner have helped revolutionise Wales' creative industry. Bad Wolf is currently in production with the second series of A Discovery Of Witches for Sky One, and recently completed the first series of the highly anticipated television adaptation of Philip Pullman's His Dark Materials trilogy, starring James McAvoy and Ruth Wilson, for HBO/BBC, and the Lena Dunham-directed Industry, also for HBO.
Find out more
Fable Pictures
Location: London, England
Faye Ward established Fable Pictures in 2016 after enjoying success alongside Alison Owen at Ruby Films, and producing Sarah Gavron's Suffragette in 2015. Since then, she has produced Stan & Ollie, directed by Jon S Baird and starring John C Reilly and Steve Coogan, which was based at Pinewood and West London Studios and on location in London, Bristol and the West Midlands, and Wild Rose, directed by Tom Harper and starring Jessie Buckley and Julie Walters. Producing partner Hannah Farrell - a co-producer on Suffragette - joined at the beginning of 2018; they have re-teamed with Gavron for adolescent drama Rocks, which had its world premiere as the opening film of Toronto's Platform strand.
Find out more
Merman
Locations: London, England and Los Angeles/New York, US
Co-founded by the award-winning duo of Sharon Horgan and Clelia Mountford, Merman has established itself as one of the UK's leading lights in television entertainment. Work includes the Sharon Horgan and Rob Delaney-penned Catastrophe for Amazon/Channel 4, the Sarah Jessica Parker starring Divorce for HBO and Aisling Bea's recently debuted Hulu/Channel 4 comedy This Way Up. The company will soon be making a move into film with Herself, the story of a young mother faced with a housing crisis, directed by Phyllida Lloyd, which is a UK/Ireland co-production with Element Pictures.
Find out more
Monumental Pictures
Location: London, England
Launched in 2014 by Ruby Films founder Alison Owen and Working Title's Debra Hayward, Monumental has since been involved in a raft of big- and small-screen productions. This includes two series of Harlots for Hulu, with a third on the way, and Coky Giedroyc's adaptation of Catlin Moran's How To Build A Girl, which will have its world premiere as a Special Presentation in Toronto. Upcoming projects include the Jane Austen-inspired Longbourn, directed by Sharon Maguire, and a TV adaptation of Zadie Smith novel On Beauty for Hulu and the BBC.
Red Production Company
Location: Manchester, England
When Nicola Shindler set up Manchester-based production company Red in 1998, it was with the aim of working with great writers to create modern and innovative television programming. Over the past 21 years the company has done just that, having produced the likes of groundbreaking gay drama Queer As Folk, Yorkshire cop thriller Happy Valley, transgender drama Butterfly for Hulu/ITV and family saga Years and Years for HBO/BBC One. Upcoming projects include a dramatisation of Labour MP Jess Phillips' book Everywoman: One Woman's Truth About Speaking The Truth and thriller Ridley Road, about the rise of racism in 1960s London.
Find out more
Potboiler
Location: London, England
Founded in 2000 by Gail Egan and the late Simon Channing Williams, Potboiler joined forces with Andrea Calderwood's Slate Films in 2009. The company's focus on high quality talent-driven international drama has resulted in Oscar winners The Constant Gardener, from Fernando Meirelles, and The Last King of Scotland, from Kevin Macdonald. Other successes include Lenny Abrahamson's The Little Stranger and Chiwetel Ejiofor's directorial debut The Boy Who Harnessed The Wind for Netflix. Egan and Calderwood, whose next project is the upcoming TV series Americanah with US companies Plan B and D2, see plenty of opportunities for independent content creators. "Now more than ever we are dealing with a changing landscape of distribution models in both television and film. The blurring of the lines between the two presents great opportunities for talent to choose the best format for the stories they want to tell," they say.
Find out more
Sigma Films
Location: Glasgow, Scotland
Sigma films was established in Glasgow in 1996 by Gillian Berrie, together with director David Mackenzie and his actor brother Alistair. The trio has worked with Scandinavian filmmakers Lars Von Trier (Dogville) and Susanne Bier (After The Wedding). Other critical hits include Andrea Arnold's Red Road and David Mackenzie's Starred Up. Last year, Sigma Films produced Mackenzie's Netflix-backed Robert the Bruce biopic Outlaw King, one of the largest productions to come out of Scotland. Slated projects include CIA action movie An Expensive Education and LA-set crime thriller The Pictures.
Find out more
Sister Pictures
Location: London, England
Founded in 2015 by experienced television producer Jane Featherstone (The Tunnel, Law & Order UK, Utopia), Sister Pictures has quickly established itself as a creator of exciting small-screen entertainment. Recent shows include divorce law drama The Split, for Sundance TV/BBC, for which a second season is forthcoming; Netflix/BBC Japanese-set drama Giri/Hadji; and Craig Mazin-scripted Chernobyl for HBO/Sky, which filmed in Eastern Europe with VFX and post in the UK and has been nominated for remarkable 18 Primetime Emmys. "It's really important that we support new writers and talent, and we do both big and small," says Featherstone of the company's focus on projects at both ends of the scale.
Find out more
Wellington Films
Location: Nottingham, England
Previously film programme manager at the British Council, Rachel Robey left that role in 2018 to concentrate full time on Wellington Films, the company she established with Al Clark at the turn of the millennium. Based in Nottingham, Wellington has been behind critically acclaimed films including Paul Andrew Williams' London To Brighton, Hope Dickson Leach's The Levelling and thriller Calibre, which was bought by Netflix. The company also produced its first TV projects, sketch show Deaf Funny and documentary series Found, for the British Sign Language Broadcasting Trust.
Find out more
Wildgaze
Location: London
For Finola Dwyer, who heads up Wildgaze Films with Amanda Posey, the company's central ethos is simple: "To trust our instincts and to follow our passions." It's an approach that's worked; past productions include the multiple award-winning Lone Scherfig's An Education, John Crowley's Brooklyn and Ritesh Batra's Our Souls At Night for Netflix. "It's never been a better time to tell stories for a multitude of platforms, which is exciting," notes Dwyer, at a time when Wildgaze is working on multiple projects including Gregor Jordan's UK/Australian co-production Dirt Music and Brooklyn TV spin-off BrooklynBoarding House, which has reached pilot script stage. "We want to keep working with great storytellers and filmmakers to deliver cinematic experiences, and to keep making distinctive work in all forms."
Find out more

The UK. First for world-class film and television production. The British Film Commission provides free, tailored support, from development through to delivery.