Production designer Gemma Jackson and costume designer Michele Clapton discuss creating a believable version of Victorian London for HBO's fantasy show.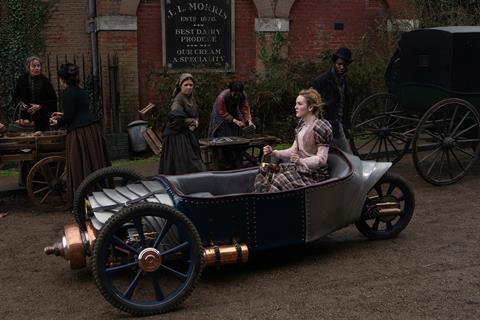 While Victorian London is a familiar on-screen sight, appearing in films like Armando Iannucci's The Personal History Of David Copperfield and TV shows like Netflix's The Irregulars, HBO's new series The Nevers brings a fantastical twist to the city streets. Created by Joss Whedon, and now overseen by showrunner Philippa Goslett, the UK-shot 12-episode series (which, due to delays in shooting caused by the Covid-19 pandemic is being made and broadcast in two blocks of six episodes), sees a strange eclipse bestow young women with supernatural powers — for which they are feared and shunned.
"[Production designer] Gemma Jackson and I were keen to create a believable world that acknowledged the period detail closely," says Emmy award-winning costume designer Michele Clapton, who has previously worked on TV shows including Game Of Thrones and The Crown and features such as The King's Man and The Secret Garden. "I felt it was really necessary to give a credible base in which our characters' unusual journeys can unfold. We researched extensively, particularly into the darker corners of Victorian society such as the docks, the asylums and medical practices of the time. And the immense contrasts in society between the wealthy, and the poor and destitute."
The British Film Commission worked with HBO from an early stage to assist in establishing the production in the UK, and providing research on Victorian locations. The BFC's regional screen agency partners then helped with finding specific locations, including warehouses and industrial spaces in London and places such as Chatham Historic Dockyard in Kent and Joyce Grove country house estate in Oxfordshire. The production also had a base in West London, which was former industrial space converted into a studio especially for the project, with planning support provided by the BFC.
"We are very lucky to have this amazing studio space in West London, with the offices for the entire production and also two huge studio spaces." says Jackson, who received an Oscar nomination for her work on Finding Neverland and has designed big- and small-screen projects including Game Of Thrones and Guy Ritchie's live-action Aladdin. "Additionally, we went to some locations, which opened out the vision of our Nevers world."
And when it came to the production design, Jackson says that she found great inspiration from the physical sets and locations.
"The approach of both myself and [set decorator] Tina Jones is to place all aspects of The Nevers in the real world; what occurs is what makes it fantastical. By this I mean I do not set out to build a fantastical set, as that would give the game away. I create real worlds for people to operate in."
Finding the balance between the historical locations and the fantasy elements of the narrative was also something that was central to Clapton's designs for the series' myriad costumes, which range from exquisite gowns to sharp tailoring.
"It can be a challenge, but I think it's so necessary," she says of melding the two elements. "If we don't acknowledge the period properly, the dress and social attitudes, then we have nothing to play against. When starting to design these sprawling series you need to put down a firm set of rules, otherwise it can spiral out of control and you lose yourself. In a complicated sculpt with many cast and storylines, you need to know where you are!"
To that end, Clapton assembled an expert team of costumers, who made "at least 95% of the principal costumes in our workshops." Additionally, she says, "many of the supporting actors' costumes were constructed in-house, and using a team of experienced workers. Elsewhere, we made groups of costumes such as the police uniforms and working mens' suits, and lots of footwear. It is often wise to do this at the beginning of a series, and it proves cost-effective over time, and we become more self-sufficient.
"We do of course still rent costumes from various costume houses throughout the UK and Europe," Clapton adds. "They are a fantastic resource, and so necessary to our industry."
Both Clapton and Jackson assert that the most crucial element of creating The Nevers' distinct visual style was the collaborative nature of their creative relationship.
"Michele and I have worked together extensively over the years, so we find ourselves in the wonderful position of really enjoying and trusting in each other's work," says Jackson. "We definitely share colour and textures, and are delighted when we see how well our work melds."
"We always work extremely closely, and [Gemma] was a great help in getting me up to speed when I joined in the second episode," agrees Clapton. "Our love of colour and detail draws us together, we both get so excited when, having talked through a particular scene, we later see it looks so beautiful and complete. I usually take my lead from the production designer; my characters have to inhabit their sets, and they invariably start on a show before the costume designer so have lots of valuable information."
For both Clapton and Jackson, being involved in The Nevers has been a hugely rewarding experience.
"Being able to create most of the costumes within our studio with a team of amazing artists and craft workers was heaven," enthuses Clapton. "We were also hugely lucky to work with a team of beautiful and engaged cast members who all worked so hard with us to find and celebrate their characters."
"The Nevers is a wonderfully original piece of work and designing it was as creative and imaginative as I could have hoped for," notes Jackson. "I am delighted with the first six episodes hence I am back to design the next six!"

The UK. First for world-class film and television production. The British Film Commission provides free, tailored support, from development through to delivery.
View full Profile