Alex Boden, producer of new Netflix fantasy epic Cursed, discusses shooting in multiple locations across the UK's nations and regions.
Debuting on Netflix UK in July 2020, Cursed is an epic fantasy show which reimagines the legend of King Arthur through the eyes of Nimue (played by Katherine Langford), a young woman with mysterious gifts who is destined to become the Lady of the Lake. Adapted from Tom Wheeler's graphic novels illustrated by Frank Miller, who also executive produce, and boasting a diverse cast including Devon Terrell as Arthur and Gustaf Skarsgard as Merlin, the Netflix original shot throughout 2019 in locations across the United Kingdom.
Producer Alex Boden — who has also produced features including Cloud Atlas and shows such as Sense8 and is chair of The Production Guild of Great Britain — says that the right locations were key to the realisation of the project as an immersive fantasy adventure in the fantasy vein of HBO's Game Of Thrones (which, of course, filmed in Northern Ireland). "We were looking to create an extraordinary world with British locations, rather than going out to Morocco or Spain," he says. "We really wanted to work with the wonderful natural landscape that exists in the UK, because that's very much connected with the legend."
In order to find just the right spots to bring the story to life, the Cursed production team, including Miller and Wheeler, embarked on a UK-wide scout, funded and supported by the British Film Commission in partnership with screen agencies Creative England, NI Screen, Screen Scotland and Wales Screen, introducing them to locations throughout the nations and regions. Taking place before most of the scripts were written, the trip was, says Boden, crucial for "showing how much variety [the UK has]," and took in places that were used in similar productions such as Excalibur and Braveheart. "There's a real cinematic shorthand that opens up when you do that which helped us decide how we wanted to address our production," says Boden. Alongside those locations, the trip stretched from Clearwell Caves and Puzzlewood near the Welsh border to Malham Cove and Bolton Abbey in the north of England — many of which ended up being used in the shoot, including Snowdonia in Wales and Holywell Bay in Cornwall.
The trip was helpful in giving the production a sense of history as the imaginary world draws heavily on medieval times and iconography. "You can take people to buildings that were actually standing in the 1200s," notes Boden. "That's something that the UK has that most places don't, and is obviously hugely inspirational for writers, directors and everyone working on the shoot." And even though the production ended up constructing a castle set to accommodate their needs, it was heavily inspired by real life buildings such as Dunnotar and Caerphilly Castles.
"Scouting was a priority," Boden continues. "We had scouts all over the country from day one, and they were working together with production design and VFX to decide what's practical, what's got the look we need. All that work really paid off. We were essentially a road movie show, we were literally going from one world to the next with every location, and we had new locations in almost every episode all the way through the series."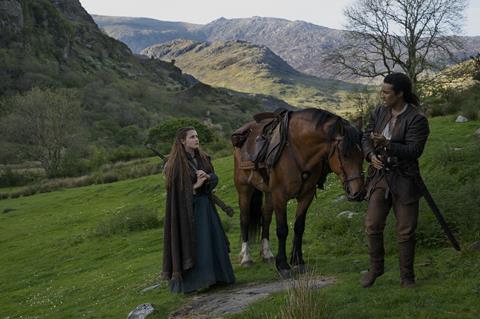 Moving the cast and crew around the country was no small challenge and, says Boden, the British Film Commission were on hand every step of the way. "They are always there for you in case you need anything. They were great on locations, of course, but they are also essential for advice on things like visas, bringing international talent into the UK. They can immediately put you in touch with the people who can facilitate exactly what the show needs."
Speaking to Boden in the middle of the global Covid-19 crisis, in which everyone has been forced to stay in one place, such a multi-location production feels like something of a fantasy itself. But the producer, who was a member of the working group that created the British Film Commission's Working Safely During COVID-19 in Film and High-end TV Drama Production Guidance, is convinced that the UK will grow and thrive as a filming destination, and points to the fact that Cursed's post-production was completed during lockdown, with a 250-strong global crew working predominantly from home to deliver the show on time, as proof of the UK's tenacity and strength.
"We are by nature an industry of problem solvers," he says. "The priority is to create an industry where productions can shoot safely, because that's the key requirement. And I can say from my own experience with that can-do attitude that we'll be up and running in no time!"

The UK. First for world-class film and television production. The British Film Commission provides free, tailored support, from development through to delivery.
View full Profile