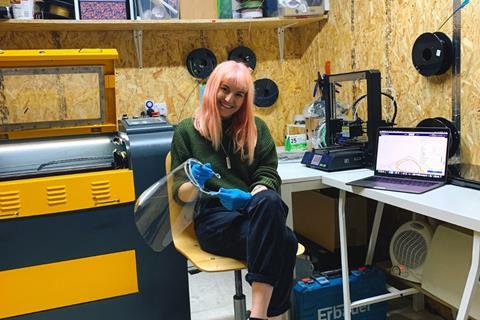 The current Covid-19 pandemic has impacted every sector of the global economy, with the UK's film and TV production industry being particularly hard hit. With the closure of cinemas and the halting of productions following social distancing guidelines, much attention has been placed on how the industry will weather this storm, and what the future might hold when the lockdown is eased.
The British Film Commission (BFC) is at the heart of these essential conversations, and much work is being done to plan a safe return to production. They have recently published comprehensive new guidance to support the safe return of production in the UK, prepared in consultation with the Department for Digital, Culture, Media and Sport, Public Health England and the Health and Safety Executive, with input from the wider industry, unions and the devolved administration in Wales, Scotland and Northern Ireland.
Yet, it's important to note that the industry has not been at rest during these tumultuous months. Many of the UK's studios, facilities and above- and below-the-line staff have utilised their considerable skills and resources to support the NHS and their local community.
The supply of adequate Personal Protective Equipment (PPE) to UK health workers has been an ongoing challenge, and UK production responded by making or donating thousands of essential items. "We had nearly 200 sets of real scrubs that had been worn in film and TV productions," says Tim Angel, chairman of London-based Angel Costumes, "and we gave them to the You Donate, We Deliver charity that took them to a scrub hub for Watford General and other local hospitals. Our building is closed and all our staff have been furloughed, and some of them have spent their time working voluntarily for organisations making scrubs, masks and visor lining for the NHS."
Costume designers unable to work on film and television shows also rose to the challenge. His Dark Materials (HBO/Bad Wolf) costume designers Dulcie Scott and Caroline McCall, the latter of whom won an Emmy for her work on Downton Abbey (Carnival), launched the group Helping Dress Medics. They ran a successful crowdfunding campaign which, at the time of writing, has raised over £100,000 to fund the making of PPE by volunteer costume makers, designers and tailors across the country. Similarly, Northern Ireland-based prop maker Zipporah Reynolds (HBO's Game Of Thrones, Warner Horizon Television's Krypton) has crowdfunded over £7000 to produce 3D-printed face visors for NHS workers.
Another dedicated group, 3D Crowd UK, coordinated over 6,000 volunteer 3D printer users to manufacture over 100,000 masks and face shields for health workers. Among the group's industry collaborators are the Lucasfilm Props Team and camera rental organisation Brownian Motion, both based at Pinewood. And from their workshops at Shepperton Studios, db Props laser cut polypropylene sheet material to make face shields for front line NHS workers.
Elsewhere, Lifecast, who provide prosthetics, VFX and props for the film and television industry from their base at Elstree Studios, supplied lifelike mannequins through their offshoot Lifecast Body Simulation for the training of medical staff across the UK, USA and Australia on the essential use of ventilators used to treat Covid-19 symptoms.
Logistical support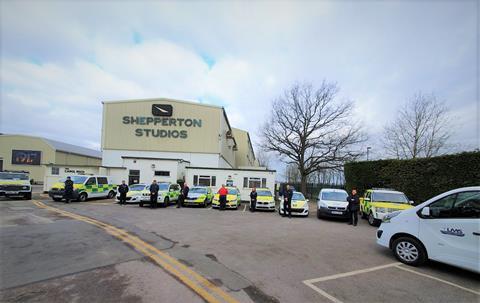 As well as donating their time, equipment and talent, the UK film and television industry also offered widespread logistical support. Elstree Studios, for example, provided a secure holding area for vehicles carrying materials for the installation of a new emergency ward at the nearby Barnet Hospital in North London.
As well as donating medical masks, antibacterial pumps and toilet paper to local NHS ambulance crews Warner Bros Studios Leavesden also provided their Harry Potter shuttle bus, usually used at the Warner Bros Studio Tour London, to give free transport to NHS key workers travelling between three Hertfordshire hospitals. The Studio Tour also worked with local charity partners to create educational assets for home learning.
West London Film Studios hosted training courses for NHS 111 staff, and also accommodated film catering company Red Radish who provided meals for the homeless on behalf of St Mungo's Homeless Charity. "We were keen to use our time and resources wisely during these uncertain times, and looked for ways in which we could help the wider community," commented Matilda Wylie, general manager of the West London Film Studios. "I'm really pleased we have been able to contribute our studio space and do something positive by supporting these key workers."
Location Medical Services, who are based at Shepperton Studios, aided the NHS by using their healthcare staff and equipment for the delivery of primary care services managing Covid-19 patients in the community. MSS Safety, based at Pinewood Studios, also had their paramedics, ambulance and medic crews dedicating their time to support the NHS on the frontline, while The Movie Lot security services, also based at Pinewood, deployed their staff to protect at-risk medical workers on their journeys to work, and to ensure medical protocols are being met at local hospitals.
"We have worked under NHS protocols for over two months now, and have done several in-house training courses on infection and viral control," says Mark 'Spike' Davies, managing director of The Movie Lot who is one of the many industry consultants on the BFC's new guidance. "We hope to use this experience to help the film and TV industry get back to work post lockdown."

The UK. First for world-class film and television production. The British Film Commission provides free, tailored support, from development through to delivery.