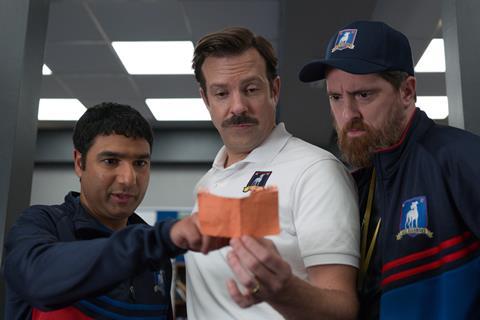 With the likes of Fleabag (Amazon), I May Destroy You (HBO) and The End Of The F***ing World (Netflix) making an international impact, UK-made television continues to win global audiences. It's not just British content that is being enjoyed by worldwide audiences, but also the UK locations and facilities that have played host to small-screen productions from around the world.
Along with established shows like HBO/Bad Wolf's Wales-shot His Dark Materials, BBC/Cinemax's latest JK Rowling adaptation Strike: Lethal White and Netflix's four series of The Crown (which shot throughout the UK), BBC Drama Productions/World Productions' Line Of Duty and Artist Studio's The Fall (both of which are filmed in Northern Ireland and funded by Northern Ireland Screen), there is a slew of forthcoming high-end TV shows which have filmed across the length and breadth of the UK's nations and regions. Here are just a few to watch out for.
Black Narcissus
Production companies: DNA, FX, BBC
UK locations: South East England
This three-part adaptation of the 1939 novel by Rumer Godden — which was previously made into a Michael Powell-directed feature in 1947 — has been written by Amanda Coe (Apple Tree Yard) and marks the small screen directorial debut by Charlotte Bruus Christensen, who has served as cinematographer on films including The Girl On The Train and A Quiet Place. Gemma Arterton, Jim Broadbent and Alessandro Nivola star in the story of a group of nuns facing a challenging time as they create a new convent. Based at Pinewood Studios, the show is due to debut on the BBC later in 2020.
The Deceived
Production company: New Pictures, Channel 5
UK locations: Northern Ireland
Funded and supported by Northern Ireland Screen, this thriller has recently debuted on Channel 5 in the UK, with a US TX date TBC, and stars Emily Reid (Belgravia) as a university student whose affair with her married lecturer leads to a shocking tragedy. The show, which was created by Lisa McGee (Derry Girls) and Tobias Beer shot in locations across Northern Ireland, and marks the first broadcast credit for Northern Irish DoP Donna Wade.
Industry
Production companies: HBO, Bad Wolf, Good Thing Going, BBC
UK locations: London, Wales
Produced by Lena Dunham's new production company Good Thing Going, together with Cardiff-based Bad Wolf, London-set drama Industry promises a thrilling look at the world of international finance through the eyes of a group of 20-somethings struggling to make their mark. Dunham also directs the pilot of the show, created by UK talent Mickey Down and Konrad Kay, and the show has shot in both London and at Seren Studios (formerly Pinewood Wales). Industry is set to premiere on HBO later in 2020.
Intergalactic
Production Companies: Sky, Moonage, Tiger Aspect
UK locations: North West England
This Sky original drama is based in a dystopian near future, in which earth is controlled by an authoritarian group called Commonworld and a band of female convicts attempt to escape into the galaxy. Written by Julie Geary (Prisoners Wives, Secret Diary Of A School Girl), the Moonage/Tiger Aspect-produced show stars Savannah Steyn (The Tunnel), Eleanor Tomlinson (Poldark), Natasha O'Keefe (Peaky Blinders) and Sharon Duncan-Brewster (Sex Education). Having shot at Space Studios Manchester, the show will debut on Sky One in 2021.
The Irregulars
Production company: Netflix
UK locations: North West England, Wales
Iconic detective Sherlock Holmes is given a surprising twist in this new Netflix original series, which is based on the works of Holmes author Sir Arthur Conan Doyle and written by Tom Bidwell (2018's Watership Down, My Mad Fat Diary). The story focuses on a group of Baker Street urchins, who solve all the cases for which Holmes takes credit. Endeavour's Johnny Kenton is lead director on the show, which filmed in locations across Liverpool, and in North Wales. It is expected to arrive on Netflix later in 2020.
Ted Lasso
Production company: Apple TV+, Doozer Productions
UK locations: London
This Apple TV+ series sees Jason Sudekis (Downsizing, Booksmart) as American football coach Ted Lasso, who journeys to the UK to manage a struggling London football team. Sudekis produces through his Doozer Productions, alongside Bill Lawrence (Scrubs) and in association with Warner Bros Television and Universal Television. The show, which filmed at West London Studios and on location across London, will be available globally on Apple TV+ from August 14 2020.
The Third Day
Production companies: Plan B, Punchdrunk, Sky, HBO
UK locations: South East
Jude Law (Captain Marvel), Emily Watson (On Chesil Beach), Naomie Harris (Rampage) and Paddy Considine (HBO series The Outsider) star in this miniseries set on a mysterious island off of the British coast. The next big HBO-Sky co-production following the multiple award-winning Chernobyl, The Third Day is divided into two parts; 'Summer', directed by Marc Munden (The Secret Garden), and 'Winter', directed by Philippa Lowthorpe (Misbehaviour). Brad Pitt's Plan B and the UK's Punchdrunk co-produce, and the show will air on HBO in September 2020.
Around The World In 80 Days
Production companies: Federation Entertainment, Slim film+television
UK locations: London and South East England
Prolific Scottish actor David Tenant (Broadchurch, Doctor Who, Good Omens) will take the role of iconic world explorer Phileas Fogg in this latest adaptation of Jules Verne's classic adventure story. French star Ibrahim Koma (Je Suis Daddy) will play Fogg's travelling companion Passepartout, and Leonie Benesch (The Crown) takes the role of young journalist Abigail Fix. The series, which has been adapted by a team of writers headed by Ashley Pharaoh (Life On Mars) and Caleb Randon (Heartless), will be coming to the BBC in 2021.

The UK. First for world-class film and television production. The British Film Commission provides free, tailored support, from development through to delivery.