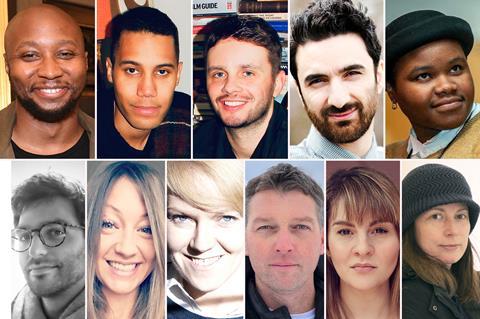 The UK has an ever-growing pool of skilled filmmakers across every sector. Here are 10 exceptional breakthrough talents who are set to be the next generation of award winners.
Curated by BFC, Screen, regional and talent agencies, this list represents just 10 emerging talents from around the country. With the UK industry dedicated to training and support across every sector, there are thousands more exceptional individuals working in all capacities on big and small-screen projects.
Shola Amoo, director
Shola Amoo made his feature debut in 2016 with multimedia film A Moving Image, which was released in the UK by Verve Pictures and, the following year, was commissioned by British Council to direct a reimagining of Othello, Dear Mr Shakespeare, which played in competition at the Sundance Film Festival.
His latest feature, sensitive immigrant drama The Last Tree, also premiered in competition at Sundance in 2019, and was nominated for four BIFAs, with lead actor Sam Adewunmi taking home Most Promising Newcomer and his co-star Ruthxjiah Bellenea winning Best Supporting Actress.
Contact: Curtis Brown Group
Konrad Kay and Mickey Down, writers
After writing partners Konrad Kay and Mickey Down's 2014 Kickstarter-funded feature Gregor was nominated for a Raindance Award at that year's BIFAs, and Kay served as a writer on the 2015 NBC/Sky/Working Title series You, Me And The Apocalypse, they were tapped by HBO to pen finance drama Industry.
Set inside an American bank in London, and directed and exec-produced by Lena Dunham, the show was developed by Jane Tranter's Wales-based Bad Wolf, and is currently filming at Pinewood Studios, Wales.
Contact: Kondad Kay: Independent Talent Group; Mickey Down: Curtis Brown Group
Joy Gharoro-Akpojotor, producer
Having cut her teeth producing shorts, including Koby Adom's Haircut, which won Film London's 2018 London Calling Plus Award, Joy Gharoro-Akpojotor has recently produced urban drama Blue Story, directed by Andrew Onwubolu (aka Rapman), with Damian Jones for Paramount and BBC Films.
Nominated for a Breakthrough Producer award at this year's BIFAs, Gharoro-Akpojotor heads up Joi Productions, which is focused on telling black, LGBTQ and female-led stories.
Contact: Independent Talent Group
Kate Reid, director of photography
Cinematographer Kate Reid has built up an eclectic career behind the camera, including features, high-end television, shorts and commercials.
She has recently filmed episodes of Amazon Studios' Hanna, Red Productions/BBC thriller Trust Me starring Jodie Whittaker and ITV/Netflix crime drama Marcella, and also shot additional photography for the pivotal 'Long Night' episode of HBO fantasy behemoth Game Of Thrones, which shot in Northern Ireland.
Reid served as DOP for the pilot episode of AMC's as-yet-untitled anthology series from Brett Goldstein and Black Mirror writer Will Bridges.
Contact: United Agents
Abolfazl Talooni, editor
An alumni of the NFTS, and a professor of editing at UCL's Documentary Filmmaking Masters course, Abolfazl Talooni has edited myriad shorts and documentary features, including the BIFA-nominated Bitter Sea (2018) and Cambodia Calling, which was shortlisted for a Grierson Award in 2015.
He most recently made his feature editing debut with Eva Riley's teen drama Perfect 10, which screened at the 2019 London Film Festival; as did Anna Snowball's short Spring Fever, also edited by Talooni.
Contact: Worldwide Production Agency
Ruth Madeley, actor
Ruth Madeley is becoming something of a familiar face on British television screens, and has most recently made her mark in the Wales-set, Jack Thorne-penned drama The Accident, produced by The Forge for Channel 4, and Russel T Davis' BBC/HBO drama Years And Years.
In 2016, Madeley was nominated for a Best Actress Bafta for her lead role in the BBC's Don't Take My Baby, and has also been seen in the likes of the 2019 Starz/Lionsgate sci-fi thriller The Rook.
Contact: Curtis Brown Group
Michelle Rose, VFX producer
Michelle Rose began her VFX career at London-based Cinesite, where she worked as visual effects coordinator on big-budget films including Disney's John Carter and Eon's Skyfall.
Moving to Framestore, she then served as in-house VFX production manager for tentpole titles including Guardians Of The Galaxy for Marvel and Paddington for Heyday Films and Studiocanal.
Having since been VFX coordinator on Warner Bros' Wonder Woman and Lionsgate's Robin Hood, she is currently working as VFX producer for Starz' popular small-screen drama Outlander.
Contact: Sara Putt Associates
Noam Piper, production designer/art director
In the decade since he graduated from the Arts Institute at Bournemouth, Noam Piper has worked as an art director across commercials, music videos, short films and features including Chanya Button's Burn Burn Burn, which was nominated for a Raindance Award at the 2017 BIFAs.
Piper also served as production designer on Button's 2018 follow-up Vita & Virgina, and has most recently worked on Wyatt Rockefeller's sci-fi feature Settlers for Jericho Motion Pictures.
Contact: Sara Putt Associates
Anna Purkis, production manager
Having started her career as a production assistant on shorts and features, Anna Purkis served as production co-ordinator on Dexter Fletcher's BFI- and Creative Scotland-backed Sunshine On Leith (2013) and Terence Davies' Sunset Song (2015), as well as Argonon's sci-fi drama Eve for CBBC.
Purkis made the step up to production manager for features including Wellington Films 2018 horror Calibre, which streamed on Netflix, and Pop TV/BBC thriller Clique. She is currently working on Netflix seasonal sequel The Princess Switch: Switched Again, starring Vanessa Hudgens.
Contact: anna.p@selloutpictures.com
James Harris, sound mixer
Having built a successful career as boom operator on big and small-screen projects including Dumbo (Disney), Kingdom Of Heaven (20th Century Fox) and War And Peace (Lookout Point / BBC Studios), in 2017 James Harris segued his talent to become a full-time sound mixer.
After working on episodes of series two of The Crown for Netflix, he has since worked on HBO series Catherine The Great, starring Helen Mirren, and Neal Street Productions' Call The Midwife for BBC. Harris is currently working as a sound mixer on the fourth series of The Crown.
Contact: Sara Putt Associates

The UK. First for world-class film and television production. The British Film Commission provides free, tailored support, from development through to delivery.