Dir: Benh Zeitlin. US. 2011. 91mins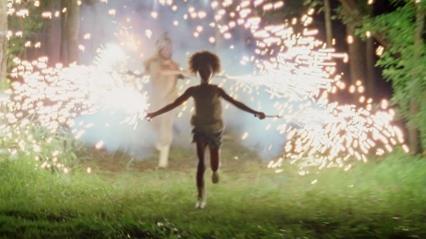 On a bayou island not far from the levies of the Louisiana coast, a motley group of survivors tries to retain their eccentric way of life in this strange, idiosyncratic debut feature from Louisiana-based filmmaker Zeitlin.
Zeitlin has created an imaginative and bold vision, filling his movie with plenty of memorable images.
Based on a play called Juicy And Delicious, the film focuses mainly on a six-year-old girl named Hushpuppy, who lives alone with her angry father Wink in a makeshift shack built high above the ground. While storms gather to drown their homes and prehistoric giant warthogs, unleashed by the melting ice caps, threaten to trample whatever's left, Hushpuppy and her backwoods community struggles to survive.
The fantastical world of the film takes place in a kind of poverty-stricken surrealism, infused with the energy and buoyancy of a big Mardi Gras party.
Opening shots show the raucous residents of the "Bathtub," as their island community is dubbed, running around screaming, drinking, eating all manner of crawfish and crabs, lighting off fireworks, and just plain going wild, as the film's title suggests.
It's all original and weird enough to be watchable, but not coherent or concise enough to be commercial. Beasts is a curiosity, to be sure, likely headed for worldwide festival play, but not much business.
The narrative is loosely structured around a few key plot points presumably inspired by Hurricane Katrina: the coming of a giant storm, how they all survive it and live after the devastation, and when the authorities arrive to take them away.
The story's heart, however, lies in the relationship between Hushpuppy and her father. Though this domestic drama builds to a moment of catharsis, the characters—and their setting—remain too much at a distance. Zeitlin hascreated a fully imagined fantasy world, but he rarely allows the viewer to emotionally inhabit it.
With her white rain boots, small afro and wide-eyed expressive face, young actress Quvenzhané Wallis's Hushpuppy is a likeable screen presence. And yet, she's also more of a symbol than a real-life little girl, as with much of the fable-like quality of the film. There's also a nice bit of magical realist storytelling in a flashback about Hushpuppy's long gone mother—"she was so pretty," Hushpuppy recounts in a voiceover, she didn't have to turn on the stove, just pass by it and the flames would ignite.
Indeed, to his credit, Zeitlin has created an imaginative and bold vision, filling his movie with plenty of memorable images: Hushpuppy running through the swamps, carrying bright burning sparklers in each hand, or breaking open a crab with her mouth, eating the flesh and flexing her muscles in victory; or (with the help of some digital effects) the giant warthog monsters confronting and sniffing a comparably diminutive Hushpuppy.
But as a cinematic journey about death, life and community, this Beasts could have using some more taming.
Production companies: Court 13 Pictures
International sales: William Morris Endeavor
Producers: Michael Gottwald, Dan Janvey, Josh Penn
Executive producers: Philipp Engelhorn, Paul Mezey, Michael Raisler
Screenplay: Lucy Alibar, Benh Zeitlin, based on Alibar's play Juicy And Delicious
Cinematography: Ben Richardson
Production designer: Alex DiGerlando
Editor: Crockett Doob, Affonso Gonçalves
Music: Dan Romer, Benh Zeitlin
Website: http://beastsofthesouthernwild.com/
Main cast: Quvenzhané Wallis, Dwight Henry