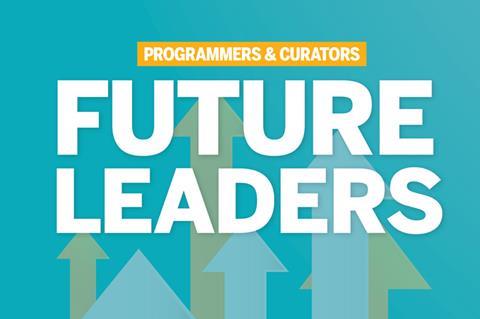 Future Leaders has become one of our favourite initiatives at Screen International. In recent years, we have profiled the up-and-coming producers, sales and acquisitions executives and agents who are going to be ruling the business in years to come.
This year, for the first time, we are profiling film festival programmers and year-round curators. These unsung heroes make a huge impact on film culture and film audience development, yet do not usually get the spotlight. In today's oversaturated, multiplatform world, we need passionate curators and programmers more than ever to champion films and provide vital context to moving image works of all varieties.
Scroll down for the full list
We thought 2019 was the perfect year to look at programmers, as there are plenty of exciting shuffles going on at the heads of festivals. Indeed, as part of this special feature, we talk to three newly promoted veterans: Lili Hinstin of Locarno, Paolo Moretti of Directors' Fortnight at Cannes and Tricia Tuttle of the BFI London Film Festival.
We sifted through hundreds of potential candidates to select the best of the best, and these 30 Future Leaders are the people we think the industry needs to know more about now. If we had done this special 10 years ago, we might have identified Berlinale head Carlo Chatrian when he was programming retrospectives at Locarno, or Jerusalem artistic director Elad Samorzik when he was working at Haifa, or the Viennale's Eva Sangiorgi before she founded FICUNAM in Mexico City.
Screen's editorial team had some tough decisions to make with so many passionate people working in this sector. In the process we looked for tastemakers who could be the heads of the A-list festivals in 10 years' time, or those who will continue to make a huge impact at their local cinemas and regional festivals. We are thankful for our network of contacts — festival artistic directors and senior programmers, critics, filmmakers and more — who suggested the curatorial voices who inspire them.
For full profiles of our 2019 Future Leaders, click on the links to the region pages below.
Maelle Arnaud (France), Director of programming, Institut Lumiere and Lumiere Festival
Anna Bogutskaya (UK), Film and events programmer, British Film Institute; festival director, Underwire Festival; co-founder, The Final Girls; programme advisor, Sheffield Doc/Fest
Ava Cahen (France), Selection committee member, Cannes Critics' Week; co-ordinator, Queer Palm; editor-in-chief, FrenchMania
Johanna Caraire (France), Artistic director, Festival International du Film Indépendant de Bordeaux
Ana David (Portugal and Germany), Member of the advisory selection committee, Berlinale Panorama; shorts programmer and industry manager, IndieLisboa
Inge de Leeuw (Netherlands), Film programmer, International Film Festival Rotterdam
Claire Diao (France), Selection committee member, Cannes Directors' Fortnight
Martin Horyna (Czech Republic), Programmer, Karlovy Vary International Film Festival
Stéphanie Lamome (France), Artistic advisor of the film department, Cannes Film Festival
Mads Mikkelsen (Denmark), Senior programmer and head of selection committee, CPH:DOX
Ruth Pérez de Anucita (Spain), Head of communications, member of the management committee, member of the selection committee, San Sebastian International Film Festival
Julian Ross (Netherlands), Programmer, Locarno Film Festival and International Film Festival Rotterdam (IFFR)
Kate Taylor (UK), Senior film programmer, BFI London Film Festival
Dilcia Barrera (US), Programmer, Sundance Film Festival; director of programming, Los Angeles Latino International Film Festival
Opal Bennett (US), Programmer, Aspen Shortsfest and Athena Film Festival; shorts programmer, DOC NYC; associate programmer, Nantucket Film Festival; programming consultant, March On Washington Film Festival
Ashley Clark (US), Senior repertory and specialty film programmer, Brooklyn Academy of Music (BAM); selection committee member, BAMcinemaFest
Luis Esguerra (Colombia), Programming co-ordinator, Bogota International Film Festival
Fanny Huc (Panama), Programmer, International Film Festival Panama
Lydia Ogwang (Canada), International programmer, Toronto International Film Festival (TIFF); coordinator, TIFF Cinematheque
Maria Reinup (US and Estonia), Artistic director, What The Fest!?; programmer, Tallinn Black Nights Film Festival
Dan Sullivan (US), Assistant programmer, Film at Lincoln Center
Frida Fan (China), Assistant director, film competition and programming department, Shanghai International Film Festival
Sheba Hirst (Kenya), Festival director, NBO Film Festival
Ifa Isfansyah (Indonesia), Festival director, Jogja-Netpac Asian Film Festival
Butheina Kazim (UAE), Co-founder and managing director, Cinema Akil
Mat Kesting (Australia), CEO/creative director, Adelaide Film Festival
David Lee (Singapore), Festival director, Singapore Chinese Film Festival
Kalpana Nair (India), Head of programme coordination, Jio Mami Mumbai Film Festival
Youssef Shazli (Egypt), Managing director, Zawya
Ikuko Takasaki (Japan), Programmer, Athénée Francais Cultural Center