Dir: Darren Aronofsky. US. 2010. 110 mins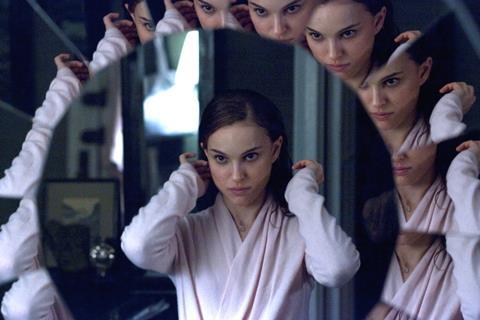 Already back on track after Venice Golden Lion winner The Wrestler, Darren Aronofsky soars to new heights with Black Swan, an enthralling drama set in the competitive world of ballet. Alternately disturbing and exhilarating, this dark study of a mentally fragile performer derailed by her obsession with perfection is one of the most exciting films to come out of the Hollywood system this year. Indeed it's the perfect film to open the autumn season with its gala at Venice tonight, a bold display of cinematic fireworks that will leave audiences breathless.
It's a mesmerising psychological ride that builds to a gloriously theatrical tragic finale
Black Swan will be warmly received in Venice, Toronto and beyond and it should pirouette all the way to the Oscars next Feb. If the film is ultimately too unsettling to snag main prizes, it has at least one nomination in the bag for lead actress Natalie Portman who gives one of "those" performances, transforming herself after ten months of training into an accomplished ballerina, almost uncomfortable to watch as she consumes her difficult role.
Festival buzz and word of mouth will be incandescent in advance of the US opening on Dec 1 and box office response should be suitably strong in arthouse bookings. Courtesy of backer and distributor Fox Searchlight Pictures, whose specialty is crossing upscale films over into the mainstream, it could certainly build into a sizable hit as the awards season progresses. International prospects are just as bright.
If you can imagine The Turning Point run through with the psychological disturbia of Repulsion or Rosemary's Baby, you get the gist of Black Swan.
Portman plays Nina, a dancer in a top New York company run by Machiavellian artistic director Thomas Leroy (Cassel). As Leroy cruelly phases out his aging prima ballerina Beth Macintyre (Ryder), he announces that he will put on a new production of Swan Lake to open the next season and will select one of the younger dancers to dance the difficult dual roles of both White Swan and Black.
Nina is what is known as a "bunhead", a goody-two-shoes dedicated to dance at the cost of everything else in life. She is coaxed and nurtured in her obsession by her former dancer mother (Hershey) who drives her to extremes of devotion, while sheltering her from exposure to real life and interaction with other people.
While Leroy thinks Nina can dance the White Swan, he doesn't believe she has the sensuality or sexual experience to bring the Black Swan to life. But when she comes to solicit him for the part and bites his lip when he tries to kiss her, he casts her, believing that she has the potential to explore her dark side.
Helping her indulge her inner Black Swan is the arrival in the company of Lily (Kunis), a sexually confident, laid back Californian with a penchant for booze and drugs. As the pressure from herself and Leroy mounts, she becomes convinced that Lily is trying to steal the starring role for herself. With the opening performance imminent, Nina descends into a state of paranoia, lust, rebellion and violence where fantasy and reality are almost entirely blurred. She becomes a danger to herself and all around her.
Portman is captivating as Nina and not just because of her dancing prowess or her lean, emaciated ballerina's frame. Like Catherine Deneuve in Repulsion or Mia Farrow in Rosemary's Baby, she captures the confusion of a repressed young woman thrown into a world of danger and temptation with frightening veracity.
There is juicy support from Cassel, all arrogance and sexual dominance as Leroy; Kunis, effortlessly charismatic as the apparently friendly Lily, and, best of all, Hershey, who is wonderfully menacing - the unhinged Ruth Gordon of the piece - as the desperate, jealous mother.
Aronofsky and his faithful DP Matthew Libatique work wonders with the dance sequences, bringing them to life through ingenious and diverse camera movements, while keeping Nina's off-stage life grainy, hand-held and claustrophobic. They constantly unnerve us by following Nina from behind or showing glimpses of what might or might not be her double. It's a mesmerising psychological ride that builds to a gloriously theatrical tragic finale as Nina attempts to deliver the perfect performance.
Production companies: Protozoa, Phoenix Pictures, Fox Searchlight Pictures, Cross Creek Pictures
North America distribution: Fox Searchlight Pictures
International distribution: 20th Century Fox International
Executive producers: Bradley J Fischer, Ari Handel, Tyler Thompson, Peter Fruchtman, Rick Schwartz, Jon Avnet
Producers: Mike Medavoy, Arnold W Messer, Brian Oliver, Scott Franklin
Screenplay: Mark Heyman, Andres Heinz, John McLaughlin, from a story by Andres Heinz
Cinematography: Matthew Libatique
Production designer: Therese DePrez
Editor: Andrew Weisblum
Music: Clint Mansell
Main cast: Natalie Portman, Vincent Cassel, Mila Kunis, Barbara Hershey, Winona Ryder