Dir: Abhinay Deo. India. 2011. 103mins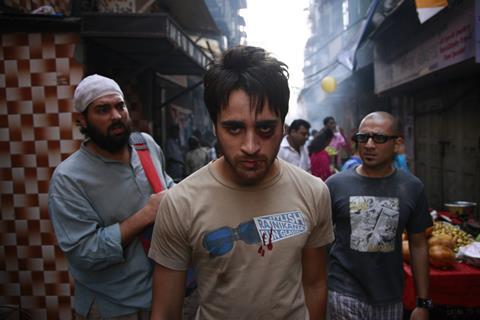 The Hangover heads to Delhi with a fresh and feisty mix of sexiness and pastiche thrown in for good measure! This highly entertaining Indian comedy-romp has the laughs, action and engagingly crude'n'rude entertainment to click with young audiences, and if promoted right could also cross-over to audiences who don't usually sample Bollywood fare.
Abhinay Deo directs with a sure hand and a great sense of humour.
In fact Delhi Belly (which opens internationally on July 1) is so packed with strong language and risqué scenes of sexuality and violence that it may even alienate the usual family audiences that make Bollywood films so successful. But if reviewers and word-of-mouth get behind this freewheeling film – shot mostly in English - it should be a strong performer.
Reporter Tashi (a dishevelled but charming Imran Khan) find himself deep in all sorts of trouble when he grudgingly agrees to help deliver a package from his air stewardess fiancée Sonia (Shenaz Treasurywala), who had naively agreed to carry the item through customs. It happens to contain diamonds and is being sought by a gang boss.
Tashi shares a ramshackle Delhi apartment with his two best pals, would-be artist Arun (Vir Dis) – who is a little too obsessed with movie 'character' Disco Fighter, leading to some great music gags – and photographer Nitin (Kunaal Roy Kapur). Tashi's package is supposed to be delivered by Nitin, but he finds himself toilet-bound with a case of Delhi Belly after sampling some Tandoori chicken street food.
So when – as a favour – Arun delivers by mistake Nitin's stool sample rather than the Russian Doll full of diamonds (which goes to the doctors) the scene is set for a series of comedy misadventures as crime boss Somayajulu (Viray Raaz) and his gun-toting gang come in search of the missing gems.
Add into the pot Tashi's burgeoning romance with fellow reporter Menaka (Poorna Jagannathan); her jealous ex-boyfriend and a cop (who happens to be the brother of the landlord of the apartment), and you have a deliriously complex comedy-romp that is short and sweet (by Bollywood film standards) and really does deliver.
The film strays into The Hangover territory as the misadventures of the threesome sees them more and more battered and bruised… Tashi gets beaten up; Nitin has part of a toilet fall on his head and Arun shaves his head after being dumped by his girlfriend. And that is all before their encounter with the diamond smuggling gang!
Akshat Verna's screenplay is smartly paced, laced with biting humour (and more than a bit bad language) and also hints at sex more than usual Bollywood films, with one bed scene involving Khan and Treasurywala – tame though it is – already attracting internet attention. The scatological humour involving Nitin's stomach problems is nicely handled, and even the gunplay and violence is amusing in amongst the bloodshed.
Abhinay Deo directs with a sure hand and a great sense of humour. There is no sense of musical numbers being leveraged into the plot, and in a nice twist the inept lyrics recited by an airhead actress being interviewed by Tashi and Menaka at the start of the film form the basis of rousing musical number – I Hate You (Like I Love You), performed by the film's producer Aamir Khan – that features at the end of the film.
Production company: Ferocious Attack Cow, Aamir Khan Productions, UTV
International distribution: UTV Motion Pictures, www.utvgroup.com
Producers: Aamir Khan, Kiran Rao, Jim Furgele, Ronnie Screwvala
Screenplay/Associate producer: Akshat Verma
Cinematography: Jason West
Editor: Huzefa Lokhandwala
Production designer: Shashank Tere
Music: Ram Sampath
Main cast: Imran Khan, Kunaal Roy Kapoor, Vir Das, Shenaz Treasurywala, Poorna Jagannathan, Viray Raaz