Dirs: Wojciech Wawszczyk, Jakub Tarkowski, Tomasz Leśniak. Poland. 2010. 79mins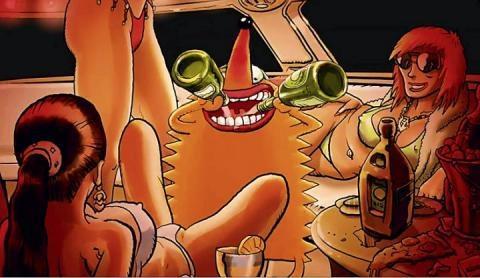 Based on a cult Polish comic book, George The Hedgehog (Jez Jerzy) is a curious, scatological and enjoyable animated feature that provides a marked change from the traditional style of Polish animation.
The animation seems crude but as the film wears on the roughness becomes part of its charm.
Receiving its world premiere as part of the late night section of the SXSW Festival, the film has a looks set to garner a cult following thanks to its unapologetic style, reminiscent of such films as Fritz The Cat. There's enough energy (and rude jokes) here to appeal to a youthful international audience, though those not well versed in the values of modern Polish society may find the satirical elements of the film pass them by.
The film follows the eponymous skateboarding protagonist as he indulges in hedonistic behaviour and enjoys an illicit relationship with Yola, a woman living a humdrum lifestyle with her dull husband. But George finds himself pursued by mad scientists and Neo-Nazi skinheads who want to clone him to create a new media sensation whereby they can control the country.
Like its narrative, the animation seems crude but as the film wears on the roughness becomes part of its charm (as does the reliance on nudity and bodily functions). Indeed, 'subtle' is not how you would describe this film. Yet – alongside its crudity – its broad and angry portrayal of a disaffected youth and a government desperate to relate to them, gives a telling insight into the modern world and gives the film a compelling edge.
George The Hedgehog joins the likes of Mary And Max, The Illusionist and My Dog Tulip in presenting an animated feature that's a refreshing alternative from the offerings of Pixar and Disney.
Production company: Paisa Films, Film Produkcja, Warszawska Szkola Filmowa

Producers: Jolanta Rojek, Maciej Slesicki, Eliza Oczkowska, Stanislaw Dziedzic

Sales contact: jezjerzy@jezjerzy.pl

Screenplay: Rafał Skarżycki

Editor: Wojciech Włodarski

Website: www.jezjerzy.pl
Main cast: Borys Szyc, Maria Peszek , Michał Koterski , Grzegorz Pawlak, Sokół