Dir/scr: Beck Cole. Australia. 2011. 86mins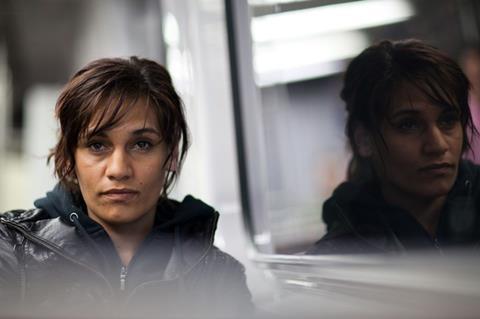 The only world premiere in competition at the Adelaide Film festival, Here I Am is the debut feature of indigenous filmmaker Beck Cole. She describes it as her "tribute to women", and men are certainly on the periphery of a story packed with loud and memorable women, mostly aboriginal, mostly smoking like chimneys. The movie, which doesn't always steer clear of sentimentality, will be welcomed by a female audience on its local arthouse cinema release later this year. A speedy local TV broadcast outing by co-producer ABC is part of the deal.
Cole's mainly non-professional supporting cast are delightfully quirky and brash.
Producer Kath Shelper and cinematographer Warwick Thornton were the key creative personnel behind the 2009 Adelaide Festival's big hit Samson & Delilah, that went on to win the Cannes Camera d'Or. Cole (Thornton's wife) had also directed that movie's lively 'Making Of' documentary. Now the team continue a line of indigenous stories told with insight and conviction, though this small-scale urban tale doesn't have anything like Samson's lure of other-world strangeness.
Karen (the striking Shai Pittman) emerges from prison and attempts to shake off years of being "a druggo slutting around the streets", as her mother puts it. Utterly without recognised skills, apart from shoplifting, she needs "a white man's certificate" before she can land any sort of lowly job. Unwelcome at the shuttered Adelaide home of her estranged mother Lois (Marcia Langton, excellent), Karen is forced to take a tiny room in a women's refuge fifteen kilometres away in a rundown docklands area.
Here we meet the group of black women, all escaping major problems, all able to lend support when Karen most needs it. And we slowly learn some of her back-story – the abandonment of her own daughter, the blighting loss of a loved brother. What she wants most of all is to see her daughter for the first time in nearly three years, but little Rosie is legally in the custody of her super-wary Grandma.
Thornton's camerawork is intimate and assured. Some fine background music from Cliff Bradley is mixed with an excellent choice of songs from, among others, the Yeah Yeah Yeahs and PJ Harvey.
Cole's mainly non-professional supporting cast are delightfully quirky and brash. Pittman, as the smouldering Karen, forces you to participate in her swirling thoughts. It's a deeply felt first feature from both actor and director.
Production company: Scarlett Pictures
Aust/NZ sales: Footprint Films, with Transmission Films and Paramount Pictures Australia
Producer: Kath Shelper
Cinematography: Warwick Thornton
Editor: Roland Gallois
Production designer: Sam Wilde
Music: Cliff Bradley
Main cast: Shai Pittman, Marcia Langton, Pauline Whyman, Vanessa Worrall, Betty Sumner, Bruce Carter