Dir: Betty Thomas. US. 2009. 89 mins.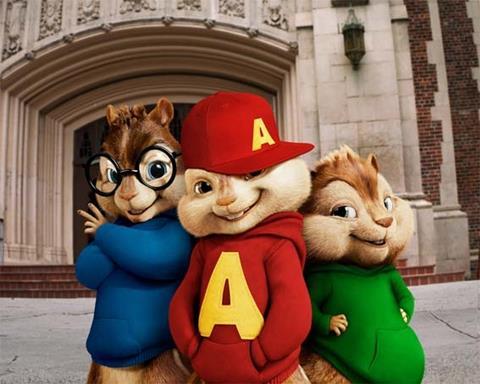 Alvin, Simon and Theodore deal with the pressures of high school in this modest, family-friendly upgrade from the singing-and-dancing chipmunks' muddled debut feature. Featuring CGI creatures who interact raucously with their human custodians, this movie, like bouncy family adventures Stuart Little and Garfield, heartily aims at and mostly connects with a pre-teen demographic.
David Cross' repeat turn as the smarmy, manically self-involved Ian is a real treat
A surprise smash in the same holiday frame in 2007, the first Alvin and the Chipmunks pulled in over $360m worldwide, with almost 40 percent in international revenues. Distributor 20th Century Fox will also be attempting to reach the same family audience as the summer's rodent-oriented hybrid animated adventure, the $283 million-grossing G-Force.
After Alvin's overly demonstrative onstage antics land Dave Seville (Jason Lee) in a Parisian hospital, his videogame junkie cousin Toby (Zachary Levi) becomes the chipmunks' bumbling, reluctant caretaker. Despite the fact that they're pop music sensations, it is decided that the creatures should go to school. Toby enrolls them at his alma mater, where their principal, Dr. Rubin (Wendie Malick), nurses a peppy crush on them, even as their popularity is threatened by a group of jock bullies.
A trio of female chipmunks looking to become singers airmail themselves to the chipmunks' disgraced former agent, Ian Hawke (David Cross), meanwhile. Sensing a way to get back into the music industry and strike back at his former charges all at once, Ian misrepresents himself to Brittany, Eleanor and Jeanette — who perfectly mirror Alvin and his fraternal counterparts, one being brash, one brainy, one short and chubby — and stokes their competitive instincts.
It's hard to swallow some of the narrative plot points here, while small swatches of dialogue (pointlessly empty movie references by Alvin to Apocalypse Now, Taxi Driver and The Silence of the Lambs for example), come across as awkward attempts at hipster posturing.
But the chief difference with Alvin2 is in its unfussy confidence. Whereas the first film was full of pat set-ups and unimaginative staging, director Betty Thomas provides the brightly colored sequel with more zip and focus. Chase sequences or other action scenes are shorter, and more tightly choreographed.
Thomas is aided by a story which is pared down and mostly stripped free of clumsy attempts at exposition and emotional string-pulling. This sequel presents a story with a simple end point: a $25,000 competition to save a high school's music program, and possibly restore the chipmunks' luster. Much better integrated special effects work also eliminates problems of inconsistent size and perspective that dogged the original movie.
Lee, the star of the first film, pops up only intermittently, and mostly via telephone calls. Levi gives a broad performance, proving an ineffectual replacement in an admittedly underwritten role. Cross' repeat turn as the smarmy, manically self-involved Ian is a real treat, though; his chatterbox conniving, as much as any of the effects work, informs the necessary suspension of disbelief this conceit requires. Even kids want an entertaining villain to root against.
Production companies
Fox 2000 Pictures
Regency Enterprises
Worldwide distribution
20th Century Fox
Producers
Janice Karman
Ross Bagdasarian
Screenplay
Jon Vitti and Jonathan Aibel & Glenn Berger, based on characters created by Ross Bagdasarian and Janice Karman
Cinematography
Anthony B. Richmond
Production designer
Marcia Hinds
Animation supervisor
Chris Bailey
Editor
Matthew Friedman
Music
David Newman
Main cast
Zachary Levi
David Cross
Jason Lee
Wendie Malick
With the voices of
Justin Long
Matthew Gray Gubler
Jesse McCartney
Amy Poehler
Anna Faris
Christina Applegate