Dir: Benjamin Heisenberg. Austria-Germany. 2010. 97mins.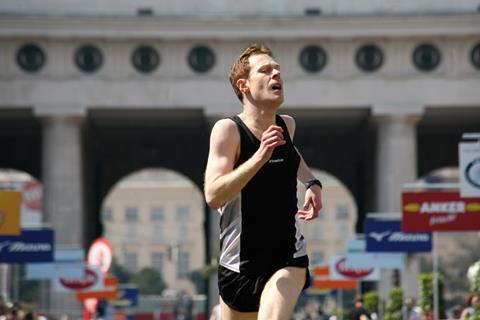 Even the most exciting story can look bland onscreen, if the script fails to probe behind the action. The Robber is based on true events – about an Austrian bank robber who was also a champion marathon runner – but suffers from director Benjamin Heisenberg's failure to examine his protagonist's motivations.
The film makes no effort to get close to its protagonist and it is unlikely audiences will root for him
Lacking sufficient star power to motivate viewers outside its co-production territories, The Robber seems best suited to join the ranks of TV thrillers, unless a remake is touted.
After a long spell in prison for reasons unspecified, Johann Rettenberg (Lust) is released on parole. As soon as he is back on the street, he indulges in his twin obsessions – long-distance running and holding up banks. He wins the Vienna marathon and becomes a celebrity of sorts; while the media mentions his past behind bars, people seem indifferent to his present. An old acquaintance Erika (Weisz) a social worker, invites him to share her flat and soon they become lovers.
Secretly, however, he dons a mask, steals cars, and breaks into banks single-handedly where he fills up large black plastic bags with money before making a run for it. This sequence is repeated to the point where it seems as if there is nothing easier to do in Austria than rob banks. The one time Hans is almost caught in the act, he makes a supposedly spectacular run for it, although the direction here is too indifferent to sustain interest.
One night Erika finds bags filled with money under his bed and when she can't get him either to give up his criminal career or explain his acts, she asks him to leave.
Then, after winning another countryside marathon, he is repeatedly pestered by his parole officer for answers as to his whereabouts. Johann hits him over the head with his trophy and makes his escape through the fields. Chased and finally apprehended by the police with Erika's help, he escapes once again, and the manhunt begins afresh.
The script, written by Heisenberg with the book's author Martin Prinz, presents the facts through the eyes of the lead character, Johann, and lets the audience imagine the rest. But Johann seems bereft of a past, a family, of anything that might connect him to this world. His relations with Erika are less than passionate and his face is mostly expressionless, whether wearing a mask or not. No effort is made to get any closer to him and since he can't claim the sympathy of the audience, it is unlikely they will root for him. The movie thus becomes a case of waiting, patiently, until he is caught.
His running style is the best thing Andreas Lust has to offer this film, though quite possibly he wasn't allowed to do more. Franziska Weisz also has a tough task in the light of scant information about her character as well.
To sign up for Screen's weekly Reviews Newsletter with all the week's new releases, international openings and full festival reviews delivered free to your mailbox every Friday, please click HERE
Production companies
Nikolaus Geyrhalter Filmproduktion
Peter Heilrath Filmproduktion
Producers
Nikolaus Geyrhalter
Markus Glaser
Michael Kitzberger
Wolfgang Widerhofer
Peter Heilrath
International sales
Films Distribution
(33) 1 53 10 33 99
Screenplay
Benjamin Heisenberg
Martin Prinz
Based on the book by Martin Prinz
Cinematography
Reinhold Vorschneider
Production design
Renate Schmaderer
Editors
Andrea Wagner
Benjamin Heisenberg
Music
Lorenz Dangel
Main cast
Andreas Lust
Franziska Weisz
Markus Schleinzer
Peter Vilnai
Max Edelbacher
Johann Bednar
Bernd-Christian Althoff
Alexander Fennon
Michaela Christl
Gerda Drabek